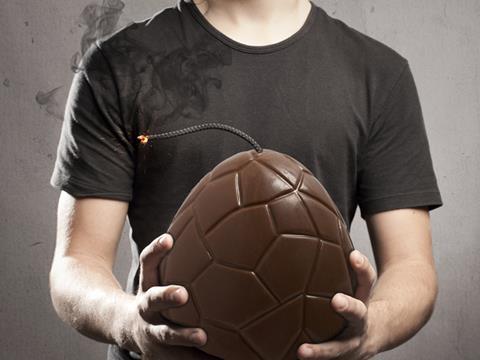 By Jove, they think they've cracked it. Confectioners are universally upbeat about Easter 2014, and with good reason. According to data exclusive to The Grocer, retailers and suppliers built on 2013's slight value and volume gains to boost their 2014 spring growth by 14.4% in value on volumes up 11.7% [Kantar Worldpanel 52 w/e 27 April 2014].
All sectors apart from hanging bags have taken a piece of a category-wide value sales increase of £34m, and brands (up 12.2% in value) and own label (boasting 37.3% value growth) are both looking springy. Customers weren't put off by the higher prices, either. Some were persuaded by own-label goods, though, as Waitrose and Sainsbury's offered their valuable featured space to own brands.
"Because it was a longer season we saw a growth in penetration among self-eat and sharing"
The improvement in sales figures isn't unexpected - with Easter arriving late last year, allowing for a fortnight of extra sales, the category was expected to hatch something special. Unfortunately, the calendar is not so kind in 2015 as Easter Sunday falls on 5 April. Will seasonal confectionery be able to achieve continued success in a tighter timeframe?
With shell eggs traditionally purchased close to Easter and self-treat products favoured earlier in the season, snack-friendly mini and filled eggs benefited from the extra trading time. Filled eggs have gained 22.9% in value on volumes up 18.2% [Kantar], with minis equalling this value growth on volumes up 14.7%.
Cadbury, the major driver of growth across Easter 2014, smashed the chocolate ceiling with its 2013 launch - Egg n Spoon. Growth of 114.7% brought it to £14.4m, a shade under the sales value of the second-biggest shell egg, Cadbury's Creme Egg [IRI], while Cadbury Mini Eggs outperformed their category with 16.6% value growth.
"It was an absolutely incredible Easter for confectionery," says Steve Chick, Mondelez brand manager for Creme Egg. "Because it was a longer season we saw a growth in penetration among self-eat and sharing products. There was also huge growth in sharing novelties, which was almost exclusively driven by the success of Cadbury Dairy Milk Egg n Spoon, which doubled in size in 2014."
Innovation played a strong role for Mondelez at Easter 2014, with the debut of the Cadbury Dairy Milk Marvellous Creations egg. "A combination of people continuing to buy what they know and love but also coming into new products is driving incremental growth in the category," Chick adds. But a sweeping range review across Mondelez's Easter confectionery will mean a streamlined offering in 2015, with plenty of cuts as well as targeted NPD.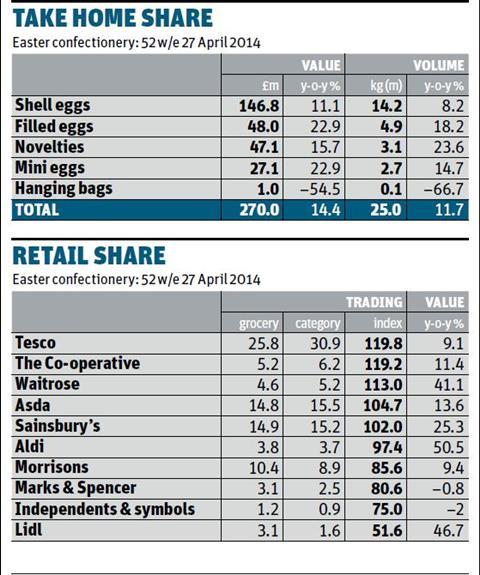 The longer Easter season delivering more growth mirrors the expandability of chocolate confectionery and the importance of in-store theatre. Own-label Easter confectionery increased its share of the category to 10.4%. Own label's growth was driven by Sainsbury's push on £1 own-label shell eggs and the continued rise of the discounters.
Average prices have increased by 2.4% as a result of an overall decline in promotions, and are mainly driven by less branded Easter confectionery sold on deal.
Own label has increased overall promotions, and almost half the volume was sold on deal in the latest 16 w/e Easter period. Own-label Easter confectionery on promotion was cheaper by almost a third than branded.
Streamlining
"We've just completed the biggest piece of consumer research on seasonal confectionery we've ever done. It was obvious that where we might see really clear, distinctive roles between our packs, it doesn't always come through to consumers. If consumers are buying or using two of our products for the same thing, then it's right that we strip back and work on offering them something they do need that is different."
As a result, a new five-pack of Creme Eggs will replace last year's three and six-packs; the Caramel Bunny, which had seen demand "drop off," is to be replaced by colourful solid novelty Freddo Sprinkles; and the Mini Eggs range has been streamlined. Cadbury Dairy Milk with Oreo, Heroes and Caramel will also join the large egg range.
"Large shell egg is the biggest and fastest-growing part of the category"
Cadbury's rivals have also been busy. Nestlé's top shell eggs, Smarties, have seen an 8.2% value rise on a volume loss of 8.8%, with the biggest price rise per kilo in the top 10. A new Smarties Egg Hunt pack, Matchmaker and Nestlé Crunch inclusion eggs, and a new Yorkie giant egg, which reflects growing consumer interest in supersized products, are also being introduced.
Innovation also includes a nostalgic Drifter campervan egg, and Nestlé isn't the only confectioner to evoke the idea of spring family escape this season. Mars is boosting the Malteaster bunny's on-shelf presence with a campervan gift pack containing a family of bunnies as well as adding a large Celebrations egg to the range. "Large shell egg is the biggest and fastest-growing part of the category," says Mars Chocolate UK's trade communications manager Bep Dhaliwal.
Strong Easter sales have attracted interest from less traditional players, too. Already present with its Magnum, Cornetto and Mini Milk eggs, Unilever will add novel brand extensions to Easter 2015 with its Marmite egg (which combines Marmite with chocolate) and Pot Noodle egg and mug, manufactured by Kinnerton. Spring and summer movie releases dominate licensed and character egg launches, with Fairtrade chocolate company Divine manufacturing a Shaun the Sheep egg under licence from Aardman, Warner Bros' Scooby-Doo featuring on an Easter egg from Beacon Confectionery, and Bon Bon Buddies using its Despicable Me licence to produce five Minion-heavy added-value eggs.
The own-label push, which saw Sainsbury's offering its £1 own-label eggs as potential rivals to the top five branded medium eggs (which retailed from £1.20 to £1.42), was one of the most significant moves on price in 2014, and contributed to own label's success in shell eggs, down 38.4% in price per kilo. By contrast, table-topping Cadbury Dairy Milk shell eggs were up a whopping 40.6% - perhaps a result of the introduction of pricier Marvellous Creations eggs - with Mars bar shell eggs up 11.3%. The biggest rise in filled eggs was a more modest 4.4% for Galaxy, while, in other Easter confectionery, Bon Bon Buddies dropped 14.4%.
Posher adult lines take centre stage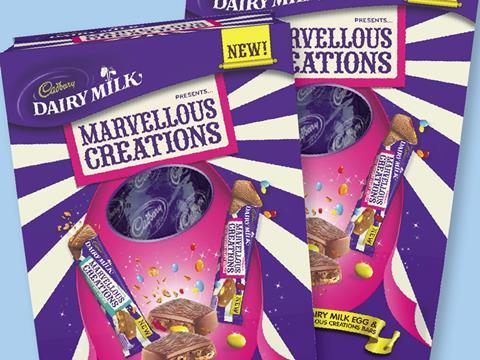 The pecking order in shell eggs is unchanged, but there's still no shortage of excitement in the top five. Dairy Milk's 40.6% growth is driven largely by the launch of Marvellous Creations eggs last year. That's not all. "The rise of Thorntons and Lindt is evidence of the growth of adult eggs," says IRI analyst Jason McCollin. "Easter egg sales had been dominated by small and medium eggs used as loss leaders. Now retailers and manufacturers are preferring to limit supply and focus on more premium lines that attract a higher price per kilo." At £30.14 per kilo, Lindt's Lindor is the most expensive shell egg among the top 10.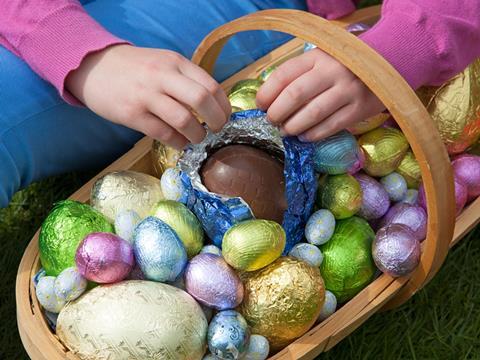 Commodity price hikes
"Rising cocoa prices are challenging the business on the back of increased demand, climatic factors and market speculation," says Justin Thomas, purchasing director at Bon Bon Buddies. "Cocoa beans have seen a 40% increase from July 13 to October 14 with an extremely competitive retail environment pushing back on any cost increase requests. With margin pressure, the business continues to invest in innovative new lines to continue our growth plans."
With novelties and filled eggs offering renewed appeal, hanging bags are Easter's only fallout sector, with value down 54.5% on volumes that have dropped 66.7%. "Despite being a very small sector, the change is considerable, as a result of Cadbury Creme Egg Splats not being released," says Kantar analyst Dorin Symon.
"Seasonal impulse products grew ahead of the market in convenience in 2014"
But brands are reluctant to abandon the format. "We've seen tremendous success across our hanging bags range, with our Ferrero Mini Eggs Hazelnut up 85% and Ferrero Mini Eggs Cocoa up 66% [Nielsen w/e 27 April 2013], and we recently launched a new bagged range across our Kinder portfolio, suitable all year round," says Levi Boorer, Ferrero's customer development director,
Some bags hold considerable promise. Bassetts Jelly Bunnies, launching for Easter 2015, is testament to Mondelez's belief in the potential of sugar confectionery - a view shared by Haribo, which will add to its Easter gift boxes, carry cases and buckets in 2015.
Own label
While brands remained dominant in Easter confectionery in 2014, own label was worth £28.1m of a £270m category. Own-label growth was up 37.3% on volume increases of 75.2%, substantial compared with brands' 12.2% value growth on volumes up 6.5% [Kantar]. Own label's strong performance in 2014, backed by merchandising support in store, promises an ongoing challenge.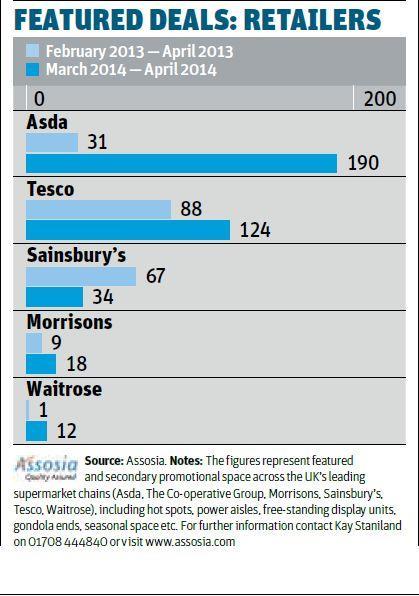 Price was a major factor last year, with Sainsbury's £1 shell eggs driving growth alongside double-digit hikes in market share for Aldi and Lidl. "Retailers are potentially looking more to own label to offer value for the customer, which obviously has an impact on us; more space is being given to own label," says Jo Lloyd, commercial marketing & brand manager of Bon Bon Buddies, which had its Sainsbury's listing cut from 19 to five in 2014.
At Waitrose, which grew its category value share by 41.1%, that meant prioritising its Woodland Friends range in prime locations. Developing Woodland Friends into a loyalty driver to rival M&S's hit Percy Pig may take time, but Waitrose has committed to it with two new egg hunt-friendly packs of hollows for Easter and an all-year-round range of Woodland Friends sweets. "Woodland Friends is going to continue to be a focus for us," says Rebecca Neale, seasonal confectionery brand developer. Waitrose has also introduced the Seriously from Waitrose range to seasonal.
Forecourts and c-stores
2015's shorter season will demand careful merchandising from petrol forecourts and c-stores, where early-season impulse novelties and full-size shell eggs will co-exist in limited space. "Seasonal impulse products grew ahead of the market in convenience in 2014, up 15.9% [IRI]," says Nestlé. To capitalise on this, Nestlé Confectionery is targeting a gap in the market for a more permissible impulse egg, and new for 2015 is the Aero Bubbly Egg.
Mondelez will be one of the season's bigger spenders on marketing and advertising, with a £3m Creme Egg campaign including the return of the Have A Fling TV ad, due to air from 1 January, and digital marketing to appeal to the core 18-to-34 Creme Egg consumer. Egg n Spoon will be the subject of a £2m push split between TV, six-sheets and a "very strong" focus in store, with the aim of growing it "as big as it can be." Meanwhile, Ferrero is backing its Kinder Surprise eggs with its Storymakers campaign, using cues on-pack from March to May to encourage consumers to enter a story online.
Beyond confectionery
Easter doesn't begin and end with confectionery. In its first crack at the Easter market, British toymaker Wow is introducing children's toy eggs that 'hatch' a chick or dinosaur, listed in Tesco and Ocado, while Premier Foods is revamping its four-strong Mr Kipling Easter cake range and returning its licensed Cadbury Mini Egg cakes to the mults.
In home baking, Dr Oetker will introduce Surprise Inside Cupcake Centres in squeezable chocolate, salted caramel and zesty lemon variants. Home baking saw an increase of 0.9% [Kantar Worldpanel w/e 27 April 2014] over Easter 2014. This might be the kind of rise the home baking sector is happy to repeat, but with streamlined ranges and solid financial support, the big eggs in Easter confectionery will be hoping for a lot more.
Long season pays off for filled eggs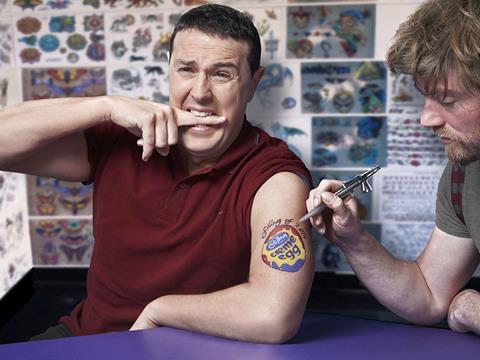 The length of the season was the key factor affecting filled eggs and other Easter confectionery, with more time for shoppers to pick up impulse purchases and novelties. "The early weeks in January was where fill was; once the range settled there was little growth for the rest of the season," says IRI's Jason McCollin. Though still led by Cadbury Creme Egg, which signed up funnyman Paddy McGuinness (pictured) as its posterboy in 2014, the filled egg category has been shaken up by Cadbury Egg n Spoon and non-egg Easter confectionery. "This area offers a price premium over traditional shell eggs and has seen 18% growth from own label products," adds McCollin.
Cadbury Mini Eggs Gift Pack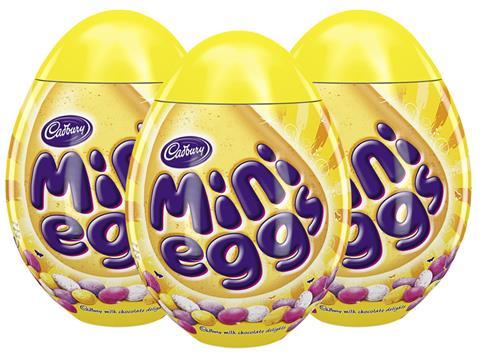 Launching: January 2015 
Manufacturer: Mondelez
Containing six mini bags of Cadbury Mini Eggs in a plastic egg-shaped shell (rsp: £4.99), the new Mini Egg gift pack was born out of the reshuffling of the Mini Egg range, which saw quad bags and treat-size packs dropped as Mondelez streamlined products that potentially served the same occasion. Specifically targeted towards gifting and sharing within families, it bears the legend 'Cadbury milk chocolate delights' and carries the distinctive pastel Mini Eggs branding.
Quality Street Matchmakers Eggs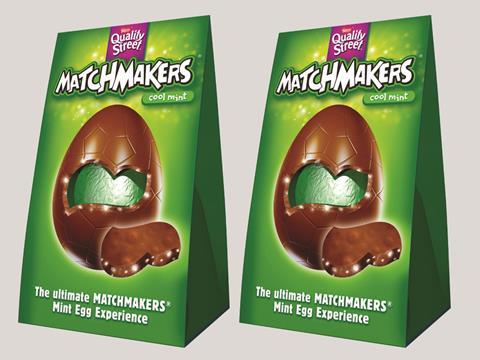 Launching: January 2015
Manufacturer: Nestlé
In a move into inclusion eggs (which feature textural additions to the traditional shell), Nestlé is introducing mint and orange Matchmaker eggs (rsp: £3), which have the same crunchy texture as the core product. The inclusions range is packaged in line with the company's policy that all packaging should be 100% recyclable.
Despicable Me Watering Can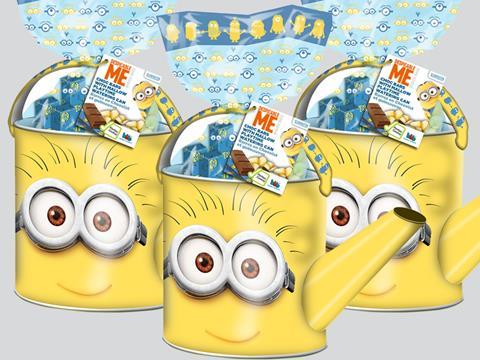 Launching: February 2015
Manufacturer: Bon Bon Buddies
With the Minions movie due out in June, Bon Bon Buddies' Despicable Me licence is seeing heavy use. The Minions tin watering can (rsp: £2.99) comes with three chocolate bars and two candy-coated mallows and is part of a line-up that includes a tin bucket with similar confectionery, a medium egg, an egg and mug, and an egg with a tin and magnets.
Size Matters Massive Chok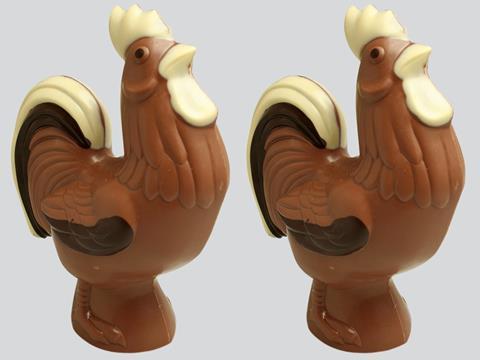 Launching: February 2015
Manufacturer: Bon Bon Buddies
This 450g milk chocolate cockerel (rsp: £11) is finished with jaunty white and dark chocolate detail. Bold carrier bag-style packaging implores consumers to 'know your limits' when it comes to chocolate. It joins the core Size Matters product, a 1 kilo milk chocolate egg (rsp: £15.99), of which limited stocks sold out "very quickly" last year, at Asda.