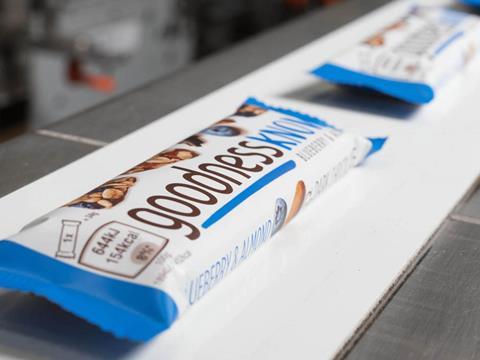 Mars is to axe its fruit and nut snack bar Goodness Knows – launched less than 18 months ago as the confectioner's first new UK brand since Celebrations in 1997.
Having made its debut in August 2017, Goodness Knows was to be discontinued because "sales have underperformed against our expectations since its launch" said a Mars spokeswoman. In the 52 weeks to 8 September 2018, the brand's value in grocery reached £6.7m [Nielsen].
Goodness Knows will continue to exist in the US but will no longer be available in this country after this month, having already been delisted by Sainsbury's, Morrisons, Ocado and Iceland.
The healthier snacking brand landed in grocery after 18 months' work by 16 staff members at Mars' development facility in Slough. Aimed at what Mars called the 'lifestyle' category, it saw the US confectionery giant taking on established 'permissible' snacking brands like Nature Valley and Eat Natural.
Goodness Knows' three variants – Cranberry & Almond, Blueberry & Almond, and Apple, Peanut & Almond – are a mixture of fruit, nuts, oats, nut butter and puffed rice. Each bar has a chocolate base and is separated into four squares.
Made on a refitted Tracker production line, Goodness Knows rolled out with no Mars branding, backed by a £4.6m spend.
In a first for a Mars brand, 10% of profits went to charity via the Goodness Knows Fund. The brand gave £100k to charitable causes in its first year, with the money split into grants of up to £5k to a host of charities and small community organisations that applied from across the UK.
Mars has pledged to continue the fund for another year, in spite of the snack's delisting. "We want to be mutual in our approach with our charitable partner, so we are providing an additional £100k donation into 2019," said the confectioner's spokeswoman.
She added that the decision to axe Goodness Knows "now gives us the opportunity to focus on the strategic partnership with Kind in the UK and grow this brand at scale". Mars took a minority investment in Kind snack bars in November 2017. The brand is currently worth £8.3m in grocery, having almost doubled its value over the past year [Nielsen].