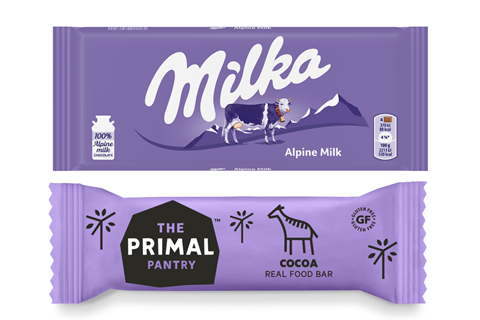 Mondelez has threatened Primal Pantry owner Nurture Brands with legal action for using packaging that is a similar colour to the trademark lilac of its Milka brand.
Mondelez Germany confirmed it had sent Primal Pantry a cease and desist letter concerning the packs of its Cocoa Real Food Bars – its vegan snack bar range containing dried fruit and seeds. The company owns Milka's lilac colour for food products as a trademark in Europe.
Nurture Brands' MD Adam Draper said he received the letter from the confectionery giant with "no forewarning".
Draper argued Primal Pantry only sold a small number of the bars in Germany, "mainly in coffee shops". Removing the lilac-packaged snack bars from the market, should it be necessary, would be "really costly and wasteful", he told The Grocer.
"We're a small exporter, we sell through a distributor, we sell them mainly in coffee shops. We're not a chocolate bar, we're a healthy snack bar made with dates," he said.
"If I do it their way, I'm literally throwing stuff away, costing myself money and my business, which is really struggling after Covid-19. Put your money where your mouth is, pick the phone up to me. I know I'm a small company but show me some respect and give me a ring."
A spokeswoman for Mondelez said it was "opening conversations with Primal Pantry".
"As a matter of practice, to protect the values of our brands which we have worked hard to build over hundreds of years, we express our concerns to third parties when we feel they are using a protected brand element", she said.
Colour trademarks were "usually enforced aggressively by their owners", said Dale Carter, partner at trademark attorneys firm Reddie & Grose.
As Mondelez's lilac colour mark was "registered for chocolate, pralines, chocolate products, chocolate goods" it was likely the Primal Pantry cocoa bar would "not be understood as a product falling into these descriptions", said Carter.
However, if Mondelez could find evidence that consumers believed the Primal Pantry packaging was "Milka Lilac", an infringement claim was likely to succeed on the basis that "the marks and the goods are sufficiently similar to cause confusion" or the Nurture Brands purple was "piggybacking off the reputation of Milka", he said.