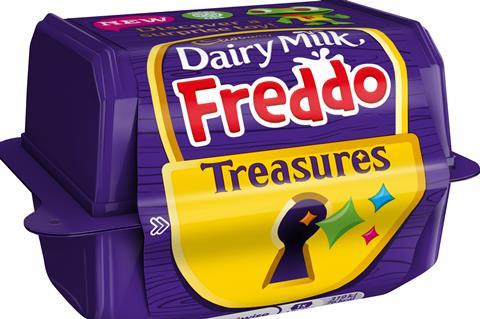 Mondelez is introducing a '100 calorie cap' on all its products that are commonly bought for children.
The move will see calories slashed across a raft of its brands. Mini Fingers and Cadbury Animals will be changed "as early as next month", said Mondelez, while the likes of Curly Wurly, Fudge, Chomp and Barny sponge bears will have their calorie counts reduced by the end of 2020.
Oreo Mini snack pots and Freddo Face Cakes will take slightly longer, with Mondelez shooting for a tentative date of 2021.#
Reductions will be made by reducing pack size rather than changing recipes.
The chocolate giant was "focusing on the areas where we can make the greatest impact" when it came to childhood obesity, said its UK MD Louise Stigant.
"We want to support parents when they choose to give their children a treat and introducing this calorie cap will make it simpler for them to find a treat under 100 calories that children will enjoy."
It's the latest in a series of moves cracking down on calories from Mondelez. In 2014 it introduced a similar 250 calorie cap on all of its single-serve chocolate bars, and has launched a 98 calorie version of Dairy Milk.
Most recently, it launched a version of Dairy Milk billed as having 30% less sugar, which it called "the most significant innovation in the brand's history". Wine Gums were given the same treatment last month.