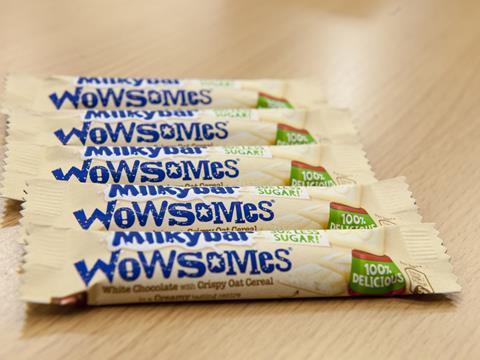 Nestlé has axed its reduced-sugar Milkybar Wowsomes brand less than two years after launch.

The bar was made with 'hollow' sugar crystals that reduced sugar content by 30% without affecting sweetness. It took Nestlé researchers over a year to create a confectionery product from the technology, but Wowsomes has struggled to sustain distribution.

Chocolate brands have come under pressure to develop reduced-sugar variants in an effort to meet government reformulation targets.

Last February, Mars Wrigley UK launched Protein countlines for Mars and Snickers, with 40% and 30% less sugar respectively.

In July, Mondelez ­followed suit with the launch of Cadbury Dairy Milk 30% Less Sugar, which uses soluble maize fibre for sweetness.

But these products are understood to have struggled to compete for shelf space.

Jack Winkler, emeritus professor of nutrition policy at London Metropolitan University, said: "The big three [Cadbury, Mars and Nestlé] are frightened that any new, no or low-sugar variants might affect their established brands. They do not back the healthier variants with the marketing budgets necessary".

A Nestlé spokeswoman confirmed it was no longer making Milkybar Wowsomes but was "working on some new and exciting products".

Nestlé's latest reduced sugar chocolate is the More range, which features a Raspberry and Hazelnut Kit Kat Chunky and an Oats, Apple and Cinnamon Yorkie that contain 30% less sugar than similar products.

Mars Wrigley UK said Mars and Snickers Protein remained an important part of its portfolio. Mondelez said shoppers' reaction to Dairy Milk 30% Less Sugar had been "overwhelmingly positive" and it was backing it with a "bespoke ATL campaign" to "help drive incremental sales".