Christmas has been surrounded by uncertainty, but that hasn't stopped supermarkets pulling out all the stops in food and drink
A month away from the big day, and we've only just got a taste of what Christmas will look like. This week, it emerged three households will be able to form a 'bubble' over a foreshortened five-day festive season. But Boris Johnson's warning that "tis the season to be jolly careful" makes clear that households should use those freedoms wisely – and think carefully about mixing with the elderly and vulnerable.
All of which has implications for the Christmas dinner table. Even if restrictions are loosened, there are still likely to be fewer places than usual. That could limit grocery spend, says Charlotte Scott, consumer insight director at Kantar. "We know when people have a smaller Christmas, they spend a lot less per head and don't necessarily have all the frills like a premium dessert," she explains.
Mintel forecasts overall Christmas spend will only drop 0.4% this year, though, due to a lack of foreign holidays. But Scott believes shoppers are likely to fall into two very different camps. "Some consumers will have been impacted more financially – 44% of our panel said they were nervous about their finances last month," she says. "On the flip side, there are a proportion that are dying to celebrate and potentially have a bit more of an indulgent Christmas."
A need to fork out has been heightened by the limited options for going out or doing things.
Chris Blythe, owner of consultancy The Brand Nursery, believes restrictions on out-of-home venues have inspired the supermarkets to up their game.
"I think the growing realisation that Christmas will be an 'at home' activity this year has encouraged the retailers to invest that little bit extra in trying to persuade us to spend more on the products they have designed to try to make the festive season a little more enjoyable and rewarding," he says.
Chef Hari Ghotra is similarly upbeat. "Yes, money may be tight, but we many have been so overwhelmed with the events of this year that there is a real desire to celebrate and create memories" she says.
Of course, the sheer practicalities of a smaller gathering will come to the detriment of certain festive items. Large turkeys, for one, are likely to be hit. (As The Sun said: 'So Here It Is: Mini Christmas'.) Ghotra expects many to turn away from turkey altogether as catering requirements change. "For many it's a bird they have out of tradition and expectation," she says. "This year things are different as it may just be immediate family celebrating together. So there is the opportunity to try something different." Party food and boxed chocolates are also likely to struggle this year, says Scott, as Covid rules out large social occasions.
But supermarkets certainly haven't given up on these items. Party selections, for example, have taken inspiration from comfort food (p28) to appeal to shoppers seeking some respite from a tough year – with or without a party. Aldi has gone all out on boxed chocolate with its Specially Selected Exquisite Artisan Collection (see opposite), designed to offer both indulgence and a Covid-friendly price tag (it claims to undercut Hotel Chocolat by as much as 70%). And, if turkeys are out, there are plenty of premium alternatives ready to take centre stage on the table. See the M&S Slow-Cooked Shin of Beef with a Rich Bordelaise Sauce, or the Waitrose Cider Cured Ham with Apple & Bay.
So here's our pick of the food and drink trends to watch this Christmas – whatever size the table may be.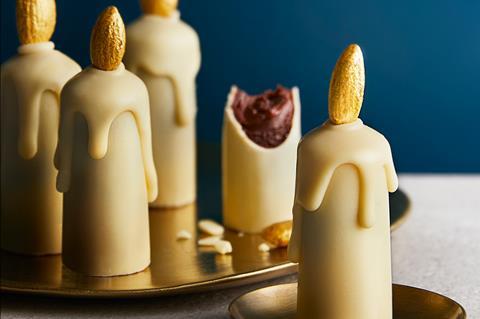 Signature designs
For the power of a signature design, look no further than Colin the Caterpillar. When M&S gave him a Halloween makeover – Frankencolin, no less – Twitter went wild. And Christmas Colin's debut in October had a similar effect, triggering a storm of excited headlines.
So it's no wonder rival retailers are looking to create their own attention-grabbing signature pieces this festive season. These Heston from Waitrose Chocolate Candles (pictured, rsp: £9) look to do for Christmas what its Chocolate Avocados did for Easter, with a slick, high-end design.
Meanwhile, Asda has harnessed the power of a cute character with the creation of Bruce the Brussel Sprout. Designed to minimise grumbles about eating your greens, Bruce appears across a number of sweet treats this year, including a chocolate sponge cake, which Asda's chief customer officer Anna-Maree Shaw believes is "set to be a bestseller". That confidence has been backed up by placing Bruce in its Christmas ad this year.
Aldi's Kevin the Carrot cuddly toy has been another signature (non-food) success story, with queues forming for several Christmases past to snap one up. It's now gone down the cute route in food with its Dairyfine Hot Chocolate Melting Snowman. The chocolate snowmen are filled with mini marshmallows and chocolate drops so when they're popped in a glass of warm milk, they melt to create a hot chocolate – an idea that Aldi says you "can't get anywhere else". It sums up the critical appeal of a signature piece.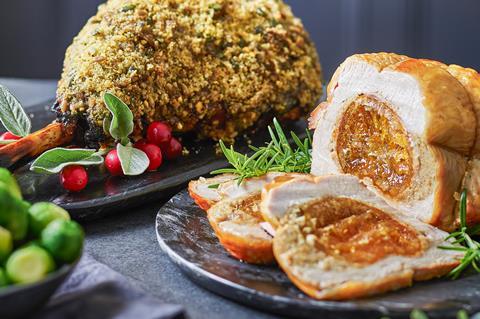 Orange flavours
Orange may be out at the White House, but it's in at the supermarkets. This festive season has inspired a host of orange-flavoured goodies, both savoury and sweet.
Tesco has been at the forefront of this trend, putting orange at the centre of the table with its Finest Turkey & Duck Parcel with a Hidden Orange Centre (pictured). That is ranged alongside its Finest Easy Carve Duck with a Maple & Orange Glaze, which uses the flavour combo in the glaze and the pork stuffing.
And if you fancy orange for afters, too, Tesco has pulled out all the stops with a Finest Chocolate Orange & Maple Bauble Cake. Topped with a white chocolate bauble, the Valencian orange sponge brings an element of theatre to the table with a hidden centre of chocolate cereal malt balls.
Going big is necessary this year. Because Tesco has plenty of rivals on the orange-flavoured dessert front. Morrisons is vying for the festive showstopper slot with its Chocolate Orange Melt in the Middle Pudding, complete with an orange sauce centre, golden chocolate decorations, and edible gold glitter. Then there's the Asda Extra Special Night Sky Chocolate Orange Gateau, made with three layers of chocolate sponge soaked in orange liqueur and topped with gilded chocolate decorations.
Meanwhile, Co-op has taken a more everyday approach to the trend with Irresistible Old Fashioned Clementine Buttercream Mince Pies, inspired by the whiskey cocktail. M&S has also gone down the boozy route with its Clementine Gin Liqueur in a light-up 'snow globe' bottle.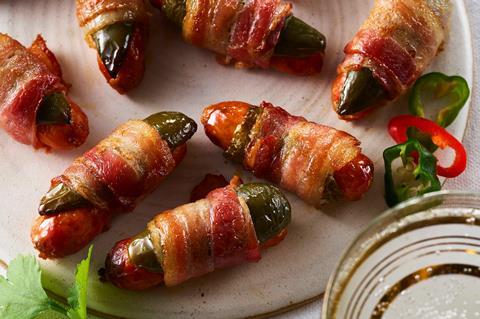 Wackier twists on pigs in blankets
Christmas Day isn't complete without pigs in blankets. Now the mults are looking to extend the power of a sausage wrapped in bacon, with some out-there twists on the classic format.
Aldi has taken inspiration from German Christmas markets with its frankfurter sausages, covered in mustard and wrapped in bacon. Those will arrive in stores alongside Loaded Pigs in Blankets and Truffle Pigs in Blankets in early December.
Meanwhile, Asda has bet on bold flavours with Extra Special Pigs on Fire (pictured), featuring British pork sausages blended with Carolina Reaper peppers and a whole jalapeño chilli. Similarly adventurous are its Candied Pigs in Blankets, which come with a sachet of spiced sugar to sprinkle over before cooking.
And Tesco has simply supersized the format with its Giant Pigs In Blankets.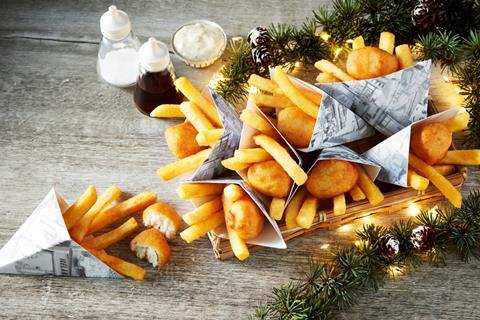 Comfort food
After the year we've had, everyone could do with a bit of comfort. So it's no wonder there's a strong focus on comfort food in this year's festive ranges – especially in party food selections.
Iceland has put a party food twist on a British classic with its Mini Fish and Chip Cones. These chunky basa fillet pieces, coated in a salt and vinegar batter, are served with crispy chips in newspaper cones.
Toasties are the thing at Tesco, unveiling Mini British Ham & Cheddar Toasties topped with cheese sauce, alongside Ham Hock & Cheddar Topped Crumpets.
Aldi is selling US comfort food with its Specially Selected Hot Dogs.
Mac and cheese is another dish that's emerged as a favourite this year. While Tesco has Finest BBQ Beef Mac & Cheese Cups, Asda has brought out Salmon Mac & Cheese Bites.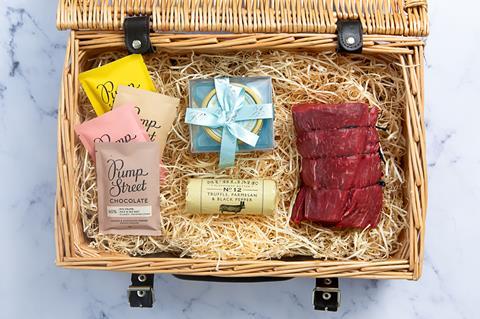 Pure indulgence
Yes, the UK has entered a recession and swathes of jobs have been lost or are potentially at risk. But that doesn't mean Brits are going to stop treating themselves on Christmas Day.
In fact, they may be even more likely to push the boat out than in other years. As hospitality continues to operate under restrictions, Chris Blythe of The Brand Nursery says "treating while staying in becomes much more relevant". Kantar's Charlotte Scott also notes premium private label has gained popularity in the past month.
That explains the thinking behind many of the more extravagant innovations on show this year. Aldi has given posh chocolatiers a run for their money with its Specially Selected Exquisite Artisan Collection, featuring truffles, caramels, ganaches and pralines and on-trend fillings like blood orange gin. At around £14.99, it hopes to undercut the likes of Hotel Chocolat by as much as 70%.
Gold has also emerged as a key way to communicate luxury. M&S has braved the prospect of David Beckham jokes with its Collection Golden Balls – profiteroles decorated with gold malt balls and an edible gold shimmer. And Sainsbury's has brought out a Chocolate & Salted Caramel Christmas Pudding Cake, topped with gold lustre colouring.
Truffle is another decadent ingredient coming to the fore this year. Waitrose has debuted a Duck Parfait with Mushroom & Truffle Centre under its premium No.1 brand, while Aldi has created Specially Selected Truffle Pigs in Blankets, in a further iteration of the pigs in blankets trend.
Outside the major supermarkets, things get even fancier. Farmison & Co has turned to two mainstays of luxury with its Steak & Caviar Christmas Hamper, which includes dry-aged chateaubriand alongside King's oscietra caviar, truffle butter and chocolate from Pump Street for £85 (pictured).
And prize for the most unashamedly decadent product goes to L'Orbe for its caviar-infused vodka, costing a mere £115 for a 50cl bottle.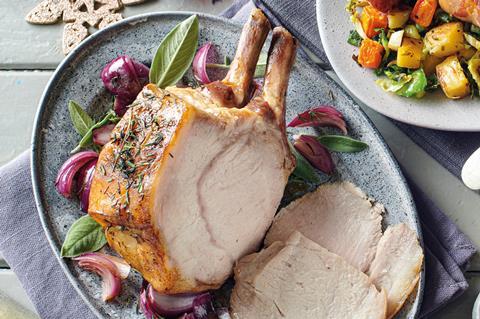 New turkey alternatives for mini Xmas
Turkey had better watch its back.
With smaller celebrations expected a number of alternative centrepieces are looking to steal its crown on Christmas Day.
Like this Irresistible Pork Rib Rack Joint from the Co-op (pictured) – a French-trimmed pork rib rack joint seasoned with rosemary, thyme and Cornish sea salt. Or the Waitrose Cider Cured Ham with Apple & Bay.
Beef shin has emerged as another key contender this year. Asda has an Extra Special Beef Shin, while M&S has brought out a Slow-Cooked Shin of Beef with a Rich Bordelaise Sauce. Plus, there is an even wider choice of vegan centrepieces this year, including a Tesco Wicked Kitchen Wellington.
If shoppers are turning to turkey, though, smaller crowns and frozen birds have emerged as early winners. Last week, Asda said sales of frozen turkey crowns had risen 230% year on year so far.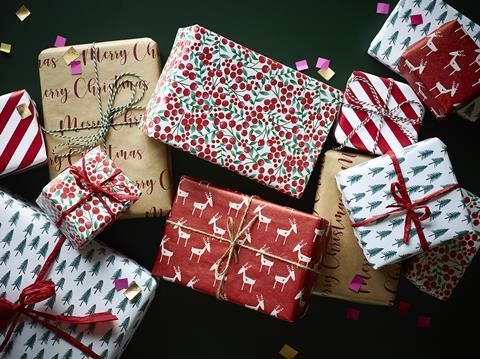 Conscious gifting
The piles of glitter, plastic and paper generated at Christmas don't exactly chime with an increasingly eco-conscious society. So this year, most of the retailers have ditched glitter, and many have gone one step further in their efforts.
In September, Waitrose announced a supermarket first with the launch of plastic-free festive wrapping paper (pictured). The two designs (rsp: £3 per roll) came in response to growing demand for such products.
Co-op has also ditched both plastic and glitter from its own-brand Christmas range this year, in a move it says will save 1.1 million pieces of plastic. Cracker barrels will be plastic-free, while the plastic windows in card boxes will be removed.
Finally, Asda has launched a sustainable Christmas range, including crackers made from recyclable content.