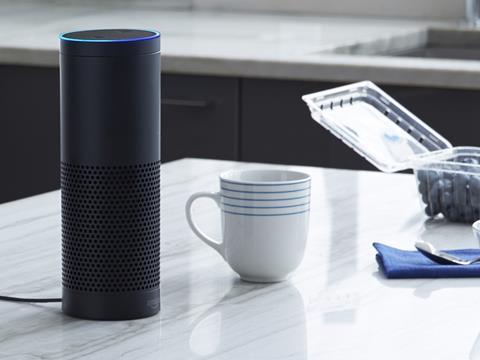 Winning Amazon recommendations for groceries will be key to successfully navigating the growth of smart speaker shopping, according to new research.

Almost half of UK households will own a smart speaker by 2022, spending £3.5bn through the devices and making voice shopping the next disruptive force in retail after mobile and e-commerce, a report claims.

Groceries and other low-value consumer goods account for the bulk of purchases made with the voice-activated devices, according to the report by consultancy group OC&C.
OCC Retail IP 2018 Infographic
Amazon, the dominant player in the field with its Echo device, makes recommendations that consumers accept in 85% of cases, the study of 1,500 smart speaker owners found.

Researchers analysed sales rates of 2,000 items listed on Amazon over a month and found that recommended product status could increase sales by a factor of three.

The recommendations prioritise items designated as 'Amazon's Choice' by the online retailer. According to OC&C, these are "often a previously purchased product, or one which is popular and well-priced, with excellent customer experience metrics and a solid supply chain performance, enabling rapid delivery".

Currently 2.7 million homes, or one in 10, have a smart speaker, but this is predicted to rise to 48%, or 13.5 million, by 2022. Last year, consumer spend through the devices was £200m, with half of owners using them for shopping, but this figure is forecast to rise to £3.5bn by 2022.

Eight per cent of UK households have an Amazon Echo device, compared with the 2% that have a Google Home device.

Purchases are predominantly of groceries and other low-value consumer goods because of the limited browsing potential the devices offer, and because people use them "with speed in mind" according to OC&C.

Seventy per cent of purchases are of a "specific known product, typically as a repeat order", according to the data. Meanwhile confidence in the speakers' product selection is low, with only 44% of consumers believing it offers the best value.

According to OC&C, maintaining Amazon's Choice status is "essential but difficult" for fmcg businesses because 4% to 5% of selected products change daily due to factors including stock and delivery speed.

The report recommends focusing on repeat, low price-point items in voice commerce offerings, and ensuring they can easily be found through tailored search terms because "70% of customers know the exact product they are seeking to buy".

Will Hayllar, partner and global head of consumer goods at OC&C, said: "It's clear that shopping with voice is going to account for a substantial and growing share of the retail market, presenting both a challenge and an opportunity for businesses that can get ahead of the curve.

"There are different paths to success in the voice category. A key consideration for retailers is understanding what business objectives they want to serve, then tailoring their voice proposition accordingly. For consumer goods companies, the focus should be on prioritising the products most likely to be shopped through this channel."