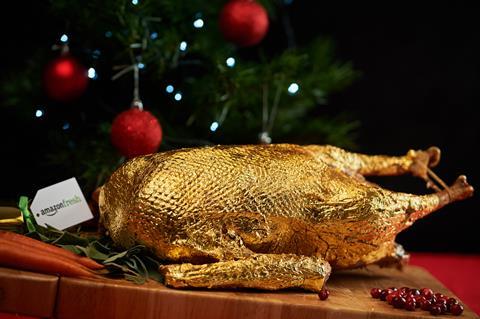 Forget a simple turkey dinner with all the trimmings. More and more consumers are looking to add twists to their festive meal by incorporating year-round foodie trends such as premium gin, vegan food and melting puddings. We count down this year's more surprising innovations – from meat-filled mince pie to sprout salad.
Christmas day brunch
Retailers have come to the rescue of all of us who just can't wait for the turkey. This year, there is a new meal occasion on the block: Christmas day brunch. Waitrose has paid homage to the event with its Instagram-worthy Brunch Croissants & Bloody Mary Shots – a perfect choice for anyone who was waiting for shots to become socially acceptable before noon. The retailer also expects a surge in demand for specialty eggs for pre-lunch treats – quail egg sales are expected to rise by 120% in the week leading up to Christmas.
Meanwhile, Sainsbury's has gone all out by creating a specific brunch category for the occasion. The range includes Taste the Difference outdoor-bred British pork chipolatas, Taste the Difference Speyside whisky-smoked salmon, and a Taste the Difference hot smoked salmon and egg royale. The retailer also expects to sell plenty of smoked salmon and trout, ripe and ready avocados and English breakfast muffins, which experienced year-on-year sales rises of 28%, 25% and 22% respectively in the week before Christmas last year. Just make sure you save some space for the turkey.
Christmas past
Yesteryear has emerged as a theme among the high-end retailers. Booths gave a nod to the past with a sausage roll based on a Victorian recipe from the 1800s and is betting on the medieval favourite of game pie to be a hit with its 2017 customers. Premium butcher C Lidgate went one step further last month with the launch of a mince pie made with beef, available to in-store and AmazonFresh customers. It may sound like the Friends episode that sees Rachel erroneously put mince in her trifle recipe, but its pie is actually the truest version of the dish: a centuries-old delicacy that combined meat with sweet ingredients including sugar, minced apricots and candied peel.
Not one to do things by halves, C Lidgate has also added a £98.50 golden goose to its festive repertoire. Shoppers looking to put a gilded edge on their festivities must first roast the goose, leave to rest and then carefully add edible sheets of 24-carat gold leaf. The tradition of eating gilded birds dates back to the 16th century, when it was considered a sign of opulence. According to historians, notorious show-off Henry VIII was prone to dishing up golden poultry to demonstrate his status as ruler of the land. Now all you need is an AmazonFresh subscription.
Drunken cheese
It takes a certain type of marketing genius to combine Britain's two great loves of alcohol and cheese. The inherent likeability of 'drunken cheese' has got retailers jumping on the trend in their droves. This year, Ocado is selling the Cheshire Cheese Company's Irish Whiskey and Stem Ginger Cheddar, M&S has launched its own Cornish Cruncher and cider cheese bake, Waitrose is taking a punt on an Italian prosecco cheese, and Sainsbury's has a Wensleydale with Grand Marnier.
Perhaps the most attention-grabbing variant was the raspberry and prosecco Wensleydale by the Great British Cheese Company, which has been out of stock since it made headlines back in November. Purists may hang their heads in dismay, but it seems drunken cheese isn't going anywhere.
Sprouts with a twist
Waitrose is on a mission to promote the humble Brussels sprout above the position of least-wanted vegetable on the Christmas table. For those who would prefer sprouts as a decoration rather than a foodstuff, the retailer has launched a £35 Brussels sprout wreath, designed to be hung on the front door or placed on the Christmas dinner table as "a striking candle centrepiece". Heston Blumenthal has also done his best to win over sceptics with a giant sprout-shaped dessert filled with profiteroles.
But Waitrose is keen to tout the sprout's taste credentials, too. The retailer has began stocking a variety of red sprout called Redarling, which has "a mild and slightly sweeter flavour" than the common green variety. It has also been busy tweeting new recipes that feature the veg, including a sprout, fennel and pepper stir-fry and a sprout salad (yes, you read that right).
Spiked hot chocolate
As the weather turns wintery, more and more of us are reaching for a winter warmer with a twist. M&S' range of pre-made spiked hot chocolates – including brandy hot chocolate, salted caramel rum hot chocolate and gingerbread brandy hot chocolate – make up its top three bestselling Christmas drinks in December. And plenty of people are making their own, too. In the first week of December, spiced hot chocolate with whisky was the fifth most searched-for recipe on the Cook with M&S app.