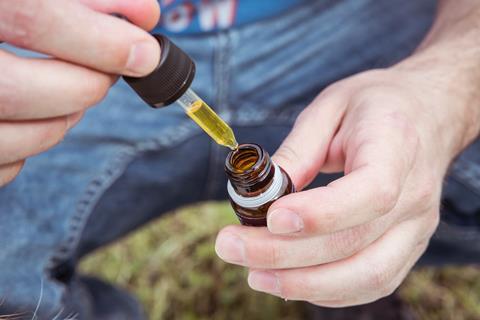 Consumers have given their "overwhelming" backing to the FSA clampdown on CBD-infused food and drink products, a new poll has revealed.
When asked how much they supported or opposed the decision by the FSA in February to regulate the CBD industry more closely, 74% of respondents to the YouGov poll commissioned by the Association for the Cannabinoid Industry (ACI) backed the move. Of the 74%, 35% strongly supported the new rules.
Only 8% opposed the guidance – with 2% strongly opposed – while 18% remained undecided.
After reviewing the evidence on CBD products, the FSA found evidence of potential adverse health effects from consumption. Vulnerable groups, such as pregnant women, were also advised not to take CBD products, and healthy adults to take no more than 70mg a day.
The watchdog set a 31 March 2021 deadline for manufacturers of CBD-based products to provide more information about their contents and apply for novel foods authorisation.
After next year's deadline, only goods that have submitted a valid application will be allowed to remain on the market.
CBD product use has grown significantly in the UK within the past year, with recent research commissioned by the Centre for Medicinal Cannabis putting the value of the UK CBD market at £300m. It is forecast to grow to be worth more than £1bn by 2025.
The YouGov poll also provided insight into CBD usage and awareness in the UK population. Seventy-one per cent of respondents were aware of CBD and 16% of them had already purchased a CBD product, it showed.
However, when it came to consumer confidence in CBD products, the results were not as positive, according to the ACI.
Only 29% of respondents declared confidence that CBD products were labelled with the correct information and properly tested by a regulatory authority, while 45% said they were not confident.
"This new poll demonstrates that the public have a clear view regarding regulation of CBD; they want more of it and the FSA can be assured that they have overwhelming support for the new measures they have introduced," said ACI pharmacy lead Dr Andy Yates.
ACI regulatory lead Dr Parveen Bhatarah added: "Recently the FSA has taken a positive step by providing regulatory clarity. This will lay the foundations of a legal and trustworthy CBD industry in the UK. The public is very aware of this and their positive reaction to guidance from the FSA reinforces the need for such leadership."
The ACI is an industry body advocating for "a safe, legal and well-regulated" CBD market in the UK.
The sample size for the YouGov poll was 2,065 and was weighted to represent all British adults aged over 18, according to the ACI.

Demystifying Hemp & Cannabidiol
The CBD Global Summit is a brand new two-day conference that brings together cutting edge science, regulatory know-how and consumer insight that businesses need in order to explore the CBD opportunity
A conference brought to you by The Grocer, FoodNavigator, NutraIngredients and CosmeticsDesign