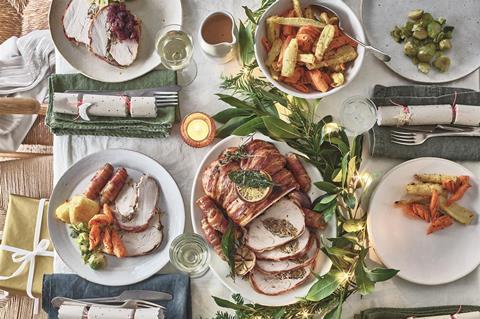 Upmarket frozen food manufacturer and retailer Cook has seen a surge in demand for its 'turkeys for two' while sales of party food and larger birds lag behind, as the nation prepares for smaller festive celebrations this year.
Centrepieces which feed up to six people, such as its rosemary and sage porchetta and the garlic and herb crusted rack of lamb, are also proving popular as a "huge wave" of customers are placing orders earlier than in previous years.
Cook said this is likely down to the uncertainty of lockdown lifting.
As a result sales are already up 20% on last year's Christmas range.
However sales of larger turkeys and centrepiece products for more than six people are slower than in previous years.
Over the course of the pandemic 98,000 new customers have started shopping with Cook online.
The newcomers have taken the total number of people that now shop via the website to 280,000, a rise of 53% since March.
In March the Sittingbourne business expanded its operation with the addition of a new 25,000 sq ft kitchen. Cook founder Edward Perry told The Grocer without this extra capacity they would have run out of stock.
An extension to the new facility is already underway, three years ahead of schedule.
"We expect customers are preparing for a continuation of some form of social distancing even after 3 December and so unsurprisingly customers are being a little more cautious about committing to party food in the way we'd usually see," said Perry. "We've still got six weeks to go until Christmas so a lot can happen in that time.
"We've been encouraging customers who usually shop with us at Christmas to place orders. With a huge wave of new customers shopping online this year we want to do our best to make sure that customers aren't disappointed. We now have home delivery vans attached to all our shops and we see this being a massively important part of our future."