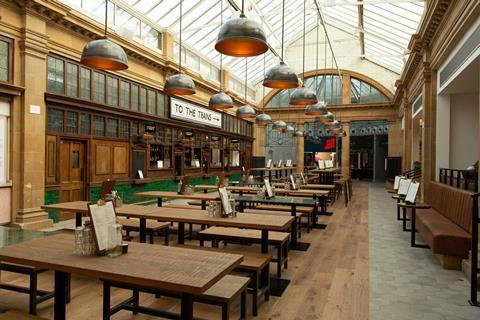 There are arguably few foodie venues quite as cutting-edge as Market Hall Fulham. The brainchild of restaurateur Simon Anderson and retail investor Andy Lewis-Pratt, this nine-kitchen venue opened last week following a year-long trip around the food halls of New York, Amsterdam and Lisbon.
Boasting everything from Thai street food to high-end fried chicken, the site will be the blueprint for two more Market Halls due to come to the capital this year – most notably, the 36,000 sq ft venue in the former BHS Oxford Street site.
Here's our pick of the standout dishes from the opening event, and how they could influence the nation's eating and drinking habits.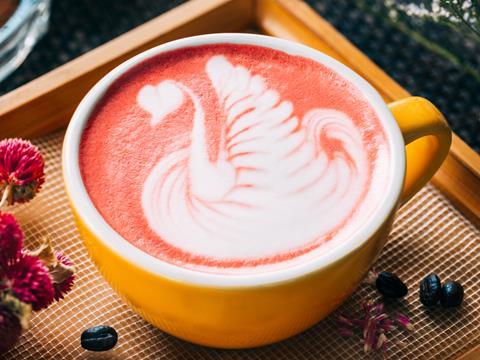 1. Velvet latte
This pink latte has predictably inspired a few Instagram shots. But Press Coffee – whose kitchen at Market Hall Fulham is selling the blend – is determined to make it more than a social media fad. In fact, it believes the photogenic latte could become as ubiquitous as its turmeric counterpart (also on the menu). It certainly has the health benefits to do so.
The ingredient behind the pink hue is powdered beetroot, famed for its antioxidant properties and as a source of folic acid, fibre, manganese and potassium. This is blended with chai spices to give a mellow, cinnamon flavour (the beetroot isn't detectable). Made without caffeine, the blend promises to give drinkers a natural boost without the jitters. A handful of health shops have already started selling the powder to make your own latte – could it make the supermarket aisles soon?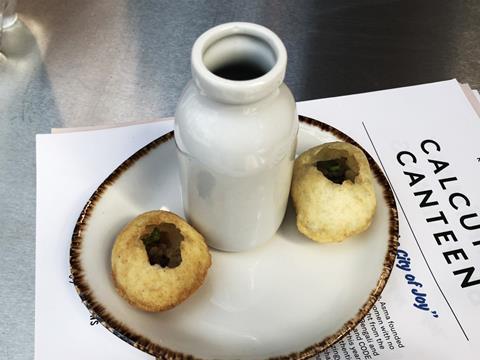 2. Calcutta puchka and kati rolls
Indian street food has already emerged as one of the major trends of 2018. So it's no surprise that the Calcutta Canteen – serving street food from the "city of joy" – is expected to pull in a roaring trade at the food hall. Launched by Asma Khan, who founded critically acclaimed eatery the Darjeeling Express, the kitchen serves plenty of authentic dishes that you wouldn't find at your standard Indian joint.
Highlights include punchy puchkas (pictured), wheat and semolina shells filled with spiced black chickpeas, potatoes and tamarind water. Plus kati rolls –Calcutta's version of a wrap, made with paratha bread and a choice of spicy fillings – are made for the food-to-go crowd.
3. Charcoal ice cream
Many have shied away from jumping on the charcoal trend due to its appearance (black food can be a divisive prospect). The Soft Serve Society is the exception to the rule, having filled its Instagram feed with its now-famed charcoal coconut ice cream. Combined with toppings such as honeycomb pieces, marshmallows and gourmet popcorn (pictured), the parlour's creations have earned the accolade of "ice cream art".
To prove it's more than just a gimmick, the flavour has been adopted by brands such as Jude's, which launched a limited edition Black Coconut ice cream last summer.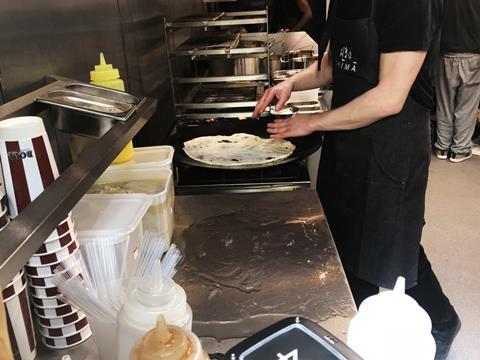 4. Thai banana roti
North London eatery Farang has quickly gained acclaim for its Thai street food, which marries "the very best fresh Thai and British produce". Co-founder Seb Holmes has brought its most popular dishes – plus some new ones – to its kitchen in Fulham, Thïma by Farang.
One of these new creations is a banana roti, a pancake-style dessert made in front of customers. Stuffed with banana and sweetened condensed milk, the result is sweet and crispy, and a favourite among food bloggers.
5. Korean poke bowls
The Hawaiian delicacy of poke bowls – raw fish salads – was tipped to become the next big thing by Waitrose back in 2016. So far, they remain a rare sight in the supermarkets. But they have taken off in foodservice; according to Market Hall management, a poke bar was one of the most requested formats for the Fulham site. Enter Ahi Poke, a small chain with five restaurants in London.
This kitchen looks to take the poke bowl one step further by combining it with Asian flavours, particularly Korean. Its menu includes 'side chick' – spicy chicken with rice and Korean BBQ sauce – and the option of kimchi as a topping. Plus, Korean delicacy kombucha is among the drinks served. If local demand for this cuisine is anything to go by, could poke be the next in-store sushi bar?