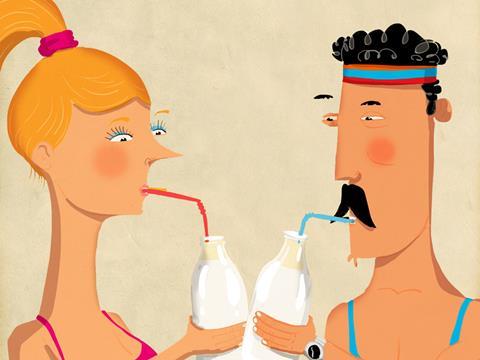 Changing health advice on fat consumption has started gaining traction with consumers when it comes to dairy, according to a poll by Harris Interactive for The Grocer.

And it looks like the message is particularly resonating with younger people, with almost a fifth of 25 to 34-year-olds believing whole milk is the healthiest type of milk or milk alternative.

Whole milk was identified as the healthiest option by 18% of the 25 to 34-year-olds in the survey of 2,017 shoppers, second only to best-seller semi-skimmed milk, with 24% of the age group believing it was healthiest.

Crucially, more young people thought whole milk was healthier than skimmed milk (16% of respondents), almond milk (14%), organic, soya and coconut milk (all 8%), and rice milk (4%).

However, more work needs to be done to persuade older generations of the merits of full-fat milk, the Harris research suggests, with just 11% of over-55s thinking whole milk is healthiest, and semi-skimmed (32%) and skimmed (30%) still seen as the best option.

"It's excellent news younger people are thinking of milk as a healthy option," said Dairy UK CEO Judith Bryans. "The shift to a more positive image and understanding of dairy fats is long overdue. We need to keep pressing home dairy foods have a crucial role to play in a healthy diet."

The Harris research also suggests Morrisons' new Milk for Farmers brand and Tesco's ongoing work with its Sustainable Dairy Group have struck a chord with shoppers. Each was named the retailer that offered the best support to dairy farmers by nearly 20% of consumers. Meanwhile, Lidl (2%) and Aldi (4%) were seen as the retailers offering the least support.