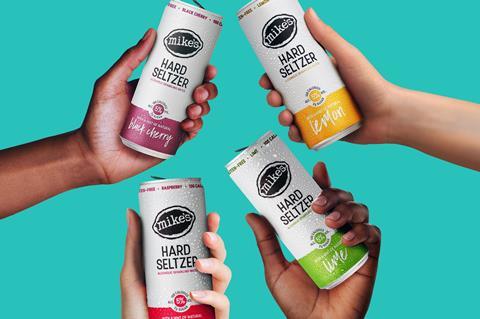 Brits knocked back almost £12m worth of hard seltzer in 2020, exclusive figures reveal.
The US trend, which hit mainstream UK retail last year, is gathering pace, according to latest Kantar figures. Sales hit £11.8m last year and 3.7% of all UK households – or some one million shoppers – have bought into the category so far [52 w/e 27 December 2020].
"We've seen a huge amount of interest and activity and there have been a slew of launches and new entrants," said Kantar head of alcohol Richard Lee.
The supermarkets have embraced the trend, with the likes of Tesco even launching dedicated hard seltzer bays.
Yet the category is not without its challenges. "When you look at more traditional parts of the market and overall reach, the amount of people actually picking it up off the shelves has some way to go compared to beer or cider and even the more directly comparable RTD sector," said Lee.
The data suggested some brands weren't delivering on taste, he added. "When you look at repeat rates for hard seltzers and the proportion of shoppers coming back to buy them again, it is about 23% – lower than the average for the RTD category.
"There's clearly interest and excitement but for some it's not converting into the taste experience they're looking for."
That being said, the drinks are flying among younger shoppers, with almost half category spend from 'pre-family' Brits. "It has really engaged those shoppers – we know they are particularly engaged with health and wellness."
It was likely the category would pick up once Covid restrictions were eased, Lee added. "Over the summer period we saw a spike which hasn't quite followed winter. Hard seltzer definitely caters to that outdoor occasion and we've not had so many of those. In non-Covid times it might have performed much better.
"But still, these are pretty impressive numbers."