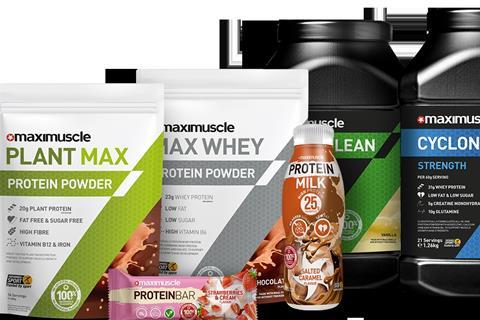 Healthy Nutrition Company is hoping to reignite shoppers' interest in MaxiMuscle this summer, rolling out dozens of new or reformulated products focused on grocery.
The fitness brand aims to tap demand for everyday fitness over coming months with a raft of on-trend NPD, including Energy Flapjack, Protein Bites, Natural Bar, and Vegan Protein Powder.
Longstanding lines have been overhauled to remove the likes of collegian, artificial flavourings and thickeners – as part of MaxiMuscle's "desire to create transparency and aid 'clean eating' within an often murky supplements industry by using fewer ingredients and making labels clearer and more understandable" it said.
The brand has also introduced flavours not commonly found in the sports nutrition category – such as Zesty Lemon, Coffee & Hazelnut, and Banana Fudge – while protein powders are set to be launched in a small format of around 500g.
MaxiMuscle had seen its presence wane in retail over the past 24 months, said its sales director, Dan Wood. "It was a case of the wrong products in the wrong place."
The brand recently suffered delistings in Asda as the supermarket switched focus away from traditional muscle-building products and gave shelf space to everyday fitness options.
Grocery was "a different market from the old-school sports nutrition market – which is big packs of powders that are a big daunting and confusing" Wood said. "Our new strategy is to be much more approachable and engaging, but still very high quality."
Healthy Nutrition Company bought MaxiMuscle a year ago from GSK with the ambition of growing it into Europe's leading sports nutrition brand.
"The brand wasn't performing particularly well," said Wood. It was "tired", hadn't been updated for quite some time, and was "very much focused on big, heavy gym-users". Nevertheless, HNC saw "a big opportunity" as sports nutrition headed into the mainstream, he added. "We want to be much more inclusive."