This article is part of our Franchise & Fascia Groups Report 2015.
The off licence is a dying breed. There were 3,126 specialist bottle shops plying their trade in Britain in the year to 31 March [Grocery Retail Structure 2015]. That's a year-on-year dip of 1% and a whopping 16.8% decline since 2004.
That doesn't mean the party is over in booze retail, however. The ongoing decline of the traditional offie can be mostly attributed to retailers diversifying their ranges to become convenience stores, with the aim of driving footfall and increasing basket spend.
Booze is still a central part of the offerings of such players, many of whom are coming up with increasingly innovative ways to encourage shoppers through their doors to pick up a bottle or two of their favourite tipple.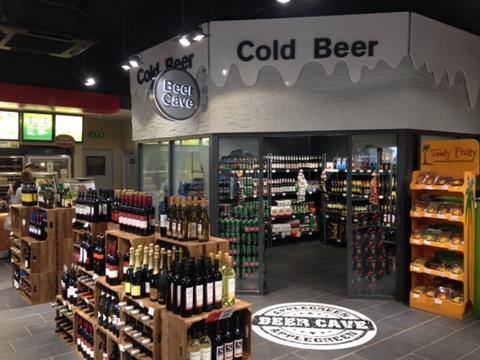 Take forecourt operator Petrogas UK. Last year the company was first to bring a new concept to the UK from the US: the Beer Cave, walk-in chillers ranging from wardrobe- to domestic garage-size that effectively create a store within a store selling cold booze.
"I was in Atlanta a few ago and they had beer caves there in all different shapes and sizes," says Michael O'Loughlin, MD of Petrogas. "Like most c-stores, we'd always put our off licence offer alongside dairy and soft drinks, but we decided to create our own Beer Cave."
The concept was first trialled at its Peterborough store, and Petrogas hasn't looked back since, with Beer Caves now in 10 of its Applegreen fascia stores. Punters will pay more for cold beer, with O'Loughlin claiming the concept has led to a "substantial" increase in alcohol sales and shoppers making trips solely to visit the Beer Caves.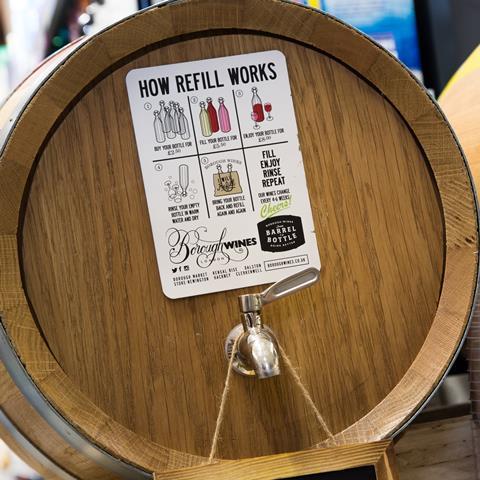 Simply Fresh has seen similar success with its 'Pour Your Own Wine' concept. It has partnered with Borough Wines of London to offer shoppers the service – through which customers decant their own wine from oak barrels into supplied bottles. It has so far been introduced in two stores, but Simply Fresh says it is looking to expand this.
"The scheme was a great success right from the word go, accounting for up to 40% of total wine sales in the first store it was introduced into," says a spokesman. "This figure is much higher expected. Wines that would normally sell at just under £10 for a 75cl bottle are selling for around £6 decanted. That's a 40% saving!"
Off-licence chain Bargain Booze meanwhile, has expanded into convenience to drive footfall with the launch of its first discount grocery range, which includes 300 skus priced below or at the pound price mark, in addition to their 2,000-sku grocery offer.
"This means customers can rely on us for great value top-up shopping with prices on average 10% cheaper than the multiples," says commercial director Kenton Burchell. "Alongside this, we've introduced themed events in-store, such as our Cider Festival, to give shoppers more inspiration at point of sale, combined with market-leading offers."
10 things you need to know about… franchise & fascia groups
1

2

3

4

5

6

7

8

9

10

11

Currently reading

Hitting the bottle: The party's not over for the off licence