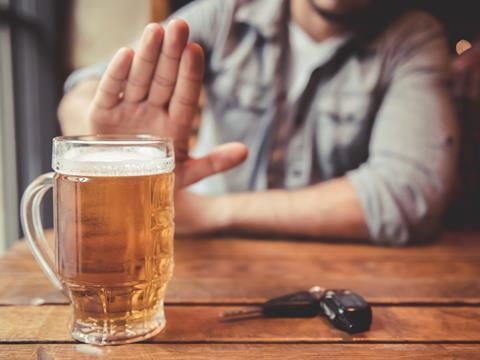 What is it about January? You may think it was hard enough contending with light wallets, dark days and some serious post-festive blues. But for us Brits, the new year signifies a new way of testing our willpower (and will to live) to its limits. This year's Veganuary is set to be the largest on record. The potato diet – a regime that, as its name suggests, involves eating potatoes and nothing else – has made regular headlines this month. And many are giving up alcohol to boot.
Since its inception, Dry January has rocketed in popularity. When charity Alcohol Concern started the month-long challenge to abstain from alcohol in 2012, only 4,000 people signed up. That number soared to four million in 2018. This year's could be even bigger, if The Grocer's exclusive research is anything to go by. In a poll of over 2,000 people by Harris Interactive, nearly a quarter of consumers said they were considering taking part in the initiative. Sure, these figures measured intention rather than practice, so it's unlikely to translate to a quarter of the population pushing away their wine glasses. But that widespread intention does indicate that cutting back on alcohol is a growing issue.
It's not just in January, either. Four in 10 respondents said they intended to reduce their alcohol consumption to some extent over the coming 12 months. That's particularly true of 25 to 34-year-olds, of which 55% expressed the desire to cut back. So the idea of millennials shunning alcohol isn't just media hype.
This can only be good news for a nation that has struggled for so long with unhealthy attitudes to alcohol consumption. However, our research suggests things need to change if this moderation mantra is to catch on.
The main barrier is social embarrassment. According to our poll, 17% feel left out of social situations if they don't drink, 15% wouldn't go on a night out with their friends without alcohol and 9% feel stupid ordering a non-alcoholic drink at a bar. The supposedly clean-living younger generations seem to feel these effects even more acutely. Of the 25 to 34-year-olds polled, a whopping 27% feel left out socially if they don't drink, while 19% of 18 to 24-year-olds feel stupid ordering a non-alcoholic drink when out.
This embarrassment factor is potentially stifling the burgeoning alcohol alternatives market. When asked what they would order as an alternative to alcohol, only 31% would order an 'adult' soft drink such as tonic water, and just 19% would opt for a low or no-alcohol version of an alcoholic drink.
Still, the fact Dry January is gaining ground so rapidly shows things are changing. Non-alcoholic drinks are one of the fastest growing areas in grocery. Sales of 'adult' soft drinks rose 22.7% last year to be worth £355m [Kantar Worldpanel 52 w/e 9 September 2018]. In our Top Products survey in December, Heineken 0.0 emerged as one of the standout players in lager with growth of 250%, making it worth £4.1m in grocery [Nielsen 52 w/e 8 September 2018]. As cutting back on alcohol becomes more normalised, products such as these stand to see plenty more growth where that came from. So let's raise a (non-alcoholic) glass to the era of moderation.