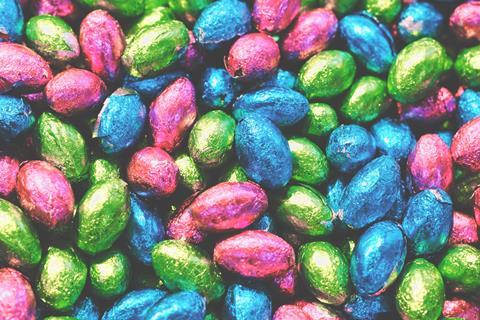 Sales of Easter-related products are set to soar 6.5% this year to £877m, according to new research.

Shopper marketing agency Savvy Marketing, which carried out a survey of 1,000 households, attributed the spike to the holiday falling later in the year, allowing consumers extra time to plan.

Sixty-four per cent of households plan to celebrate and 37% intend to spend more on Easter goods this year than last, the survey found.

"Easter falls late this year, giving shoppers extra time to prepare for the holiday weekend," said Savvy Marketing insight director Alastair Lockhart.

"This, combined with better online inspiration and retailers' scaling up investment in the event, is set to boost Easter spending."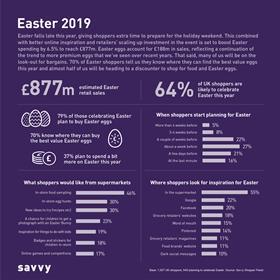 Trading up to more expensive purchases was planned by 44% of households, reflecting a trend to premium, while discounters were also set for a boost, according to Lockhart. "Seventy per cent of Easter shoppers tell us they know where they can find the best value eggs" and 49% would head to a discounter, he said.

The shoppers were also surveyed on the expectations from retailers, with 46% saying they wanted in-store sampling, the top result. In-store egg hunts took joint second place alongside new ideas, such as recipes, both expectations of 30% of shoppers.

Nineteen per cent were looking for inspiration on things to do with their children.

In terms of where shoppers were looking for inspiration, supermarkets came top, at 55%, followed by Google at 22% and Facebook at 20%.

A grocery retailer's website and Pinterest was the go-to place for 18%.

Unsurprisingly, the top planned purchase was Easter eggs, at 79%, followed by chocolate at 31% and roast dinner ingredients at 26%.

In non-food, 19% would be looking for Easter cards, followed by cuddly toys at 12%.