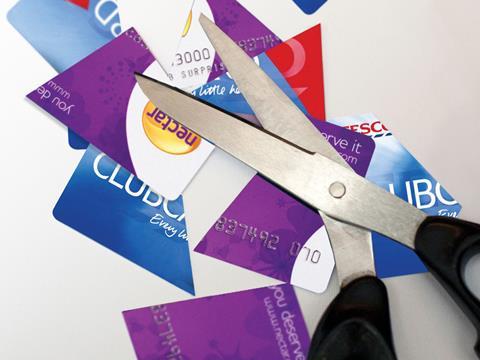 Loyalty cards are failing to do their job among half of British shoppers, a global shopper study has found.

Only 51% of British consumers said they would buy from a retailer with a loyalty scheme over a comparable one without a scheme, making it the least loyal country, apart from Denmark, in the Nielsen study.

And just 55% of those who belonged to a scheme said they shopped more at those retailers as a result, well below the average of 67% across the 63 countries surveyed in March.

This was despite the relative popularity of loyalty cards in Britain. The survey of 30,000 online shoppers found 89% of British respondents had a card - second only to Finland with a 94% sign-up rate - and the average number of cards stood at 3.6 per person.

"This suggests Britons simply like the idea of signing up rather than actually using them - a 'tick-box' exercise - but the schemes aren't personalised enough to keep them engaged," said Mike Watkins, UK head of retailer and business insight at Nielsen. "The result being UK retail is drowning in a sea of loyalty cards."

Nielsen suggested loyalty schemes would have to adapt to keep shoppers interested. It forecast retailers would increasingly use data to create personalised offers for customers, and link up with financial services loyalty schemes such as Tesco Visa Cards to give shoppers "the best of both worlds".

Nielsen also tipped subscription services such as Ocado Smart Pass and Amazon Prime, which require an annual fee, to also become increasingly common as a means of encouraging long-term loyalty.