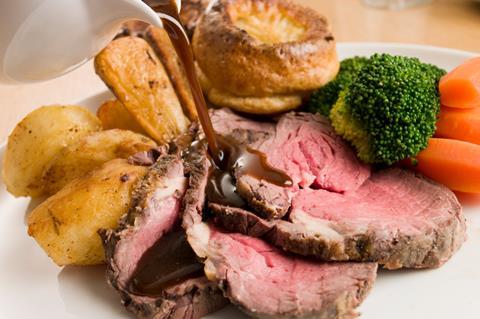 Roast dinners are no longer simply a family occasion - a growing number of Brits are eating theirs alone.

The number of single-person roasts rose 5% last year to 121.1 million occasions, according to Kantar data for the 52 weeks ending 24 March.

Men over the age of 55 were the driving force behind the solo roasts trend, said Grenville Wall, consumer insight director at Kantar.

"Over the past year, men have been growing that occasion and women are pretty flat," he said.

Wall said the growth in single-person roasts was partly due to the increase in the number of Brits who are living alone.
But the emergence of more convenient products may also be tempting more people to cook a full roast dinner for one, he added.

Over the past year, a number of innovations have come on to the market to cater for the single-person occasion.

Nomad Foods unveiled a single-portion roast ready meal earlier this month under its Aunt Bessie's and Birds Eye brands. Meanwhile, Premier Foods said its Bisto Microwave Ready Gravy Pots, launched in July, were suited to "solo meal occasions".

Innovations such as these were enabling consumers to create quick, simple roast dinners "at any time of the week", said Premier Foods' category marketing director Helen Touchais.

Solo dinners still make up a small proportion of the total roast dinner market, accounting for under 10% of the 1.2 billion occasions captured by Kantar.

However, the overall roast dinner market is in steady decline and saw a 3% drop in occasions in the past year.