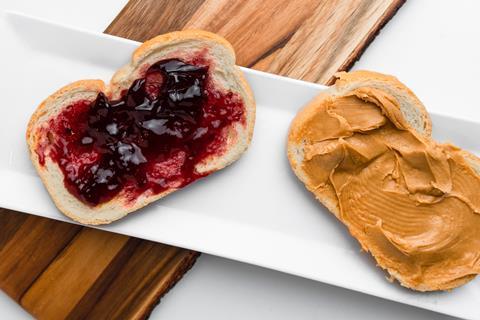 Sales of peanut butter have overtaken those of jam in the UK, IRI data has revealed.
Supermarket sales for peanut butter totalled £98.9m in the past year, while sales of jam were £96.9m [52 w/e 25 April 2020].
Brands are putting this boost down to peanut butter's versatility and health credentials.
"Peanut butter offers an easy and tasty way to add more nutrition to breakfast and snack choices – which more consumers are beginning to recognise," said Whole Earth brand controller Kirstie Hawkins.
Meridian Foods MD Paul Fraser said peanut butter had "come into its own" for lunches and snacking as well as with the recent rise in scratch cooking, noting its ability to make stir fries and curries "a bit more exciting".
During lockdown, demand across the board has increased, with peanut butter gaining a 35.5% increase in sales over the 12 weeks to 25 April [IRI].
Pip & Nut founder Pip Murray said nearly half of its sales were attributed to kilo tubs, adding it had been "astonishing to see the shift" towards buying bigger packs.
Similarly, Fraser said sales of Meridian's 1kg tubs had "absolutely rocketed",
He added it had been hard to maintain supply with the trend towards bulk buying, as shoppers wanted to limit trips to the supermarket.
However, lockdown isn't the sole reason for peanut butter's success this year, said Fraser.
"Nut butters have been in growth for a while, and relatively gaining share in the breakfast spreads sector," he said.