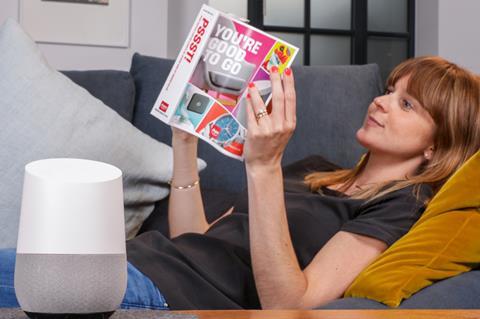 In the post-Covid retail landscape, 15 June was a big day. While supermarkets had remained open for the whole of lockdown and done a phenomenal job supporting the public, how would the same public react to all non-essential stores reopening?
"I want people to be confident that they can shop safely, provided they follow the social distancing rules for all premises," proclaimed Boris Johnson. And it's those rules that have ultimately changed the relationships consumers have with stores and how they have started to use them. This is making the retail industry rethink the dynamic interplay between physical and digital assets.
Often at Google we'll look at shopping journeys in the various retail sectors and try to understand what percentage of those journeys contain a digital channel. A study we did with OC&C strategy consultants three years ago showed consumer electronics at the top end of the scale with 84% of journeys involving a digital channel, while grocery sat firmly at the bottom with only 24% of journeys. Although Deloitte estimated that half of grocery shopping journeys were influenced by digital, by late 2019, digital's role still had a long way to go to catch up with the rest of retail.
Covid-19 has turned these studies and data points on their heads. I would argue that in the current environment almost no physical shopping journey, regardless of the category, is executed without a digital touchpoint. I was struck by a small clip from this publication's former managing editor, Julia Glotz, speaking with Tessa Stuart on how planning and lists are now dominant due the multiple other concerns shoppers currently have. In Google Search, we've seen an increase of 50% in the number of modifiers people are using when searching for a supermarket brand, many of which are related to functional concerns such as queues, opening times and delivery slots. All this indicates less spontaneous and more planned behaviour.
This of course may well change, but the noises coming out of a variety of retailers is that they are planning for this being the new normal. Sharon White at John Lewis recently talked about rebalancing the store estate as she sees shops as 'crucial but in support of online', while Argos' news that it is decommissioning its catalogue after 48 years at the end of January 2021 also indicates that it sees the majority of discovery now happening online.
Thus the big challenge of understanding how people decide what to buy becomes more important than ever, especially when digital creates anything but a linear path to purchase for shoppers. Some of our consumer insights team recently looked at the buyer decision process and found understanding the 'messy middle' is key to taking advantage of the opportunities that digital provides brands. The research defines the importance of the expansive mental mode of exploration and the reducative mode of evaluation as crucial components of the buying journey. The role of all digital channels can be classified into one of these modes.
Springboard data shows that footfall is now at two-thirds of the level it was this last year. However, it is most definitely a different type of shopper that we were seeing this time last year. Now, they are more informed than ever before when they arrive at the store, and have much more on their mind, leaving less space for discovery, such an important part of the shopper journey. Understanding these new journeys and how they evolve will be crucial to the success of retailers and brands alike.