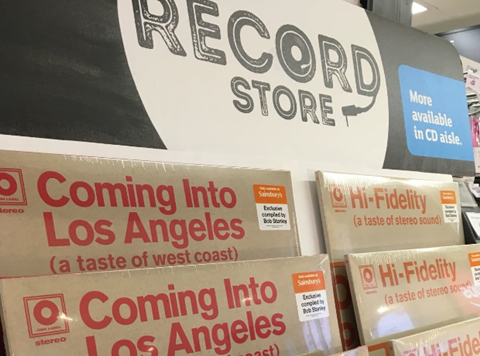 Sainsbury's is looking to capitalise on the vinyl revival with the launch of its Own Label record range.

From Friday, the supermarket will sell two vinyl compilation albums "tailored specifically to the tastes of Sainsbury's shoppers" across 160 of its superstores.

The albums 'Hi Fidelity - A Taste Of Stereo Sound' and 'Coming into Los Angeles - A Taste of West Coast' were curated by music journalist and Saint Etienne musician Bob Stanley.

The records feature 1960s and 1970s tracks from names such as Fleetwood Mac, Cat Stevens and Elton John alongside "lesser discovered artists" such as Giorgio Moroder.

The launch of its own imprint - called Own Label, in reference to its grocery credentials - comes 18 months after Sainsbury's first began stocking vinyl in its stores. Since last March, it has sold 300,000 albums to take 5% of the total vinyl market this year and 70% of spend at grocers.

"Our customers' love of vinyl shows no sign of abating, so alongside the classic albums, we want to offer our shoppers something they won't find anywhere else," said Sainsbury's head of music and books Pete Selby,

"Our exclusive Own Label records have been carefully tailored towards the inquisitive, cultured tastes of our customers so we're confident that they'll love the sound of our new releases and our ever-increasing vinyl range."

In the first half of 2017, sales of vinyl in the UK grew by nearly 38% to £37.3m, according to the Entertainment Retailers Association.