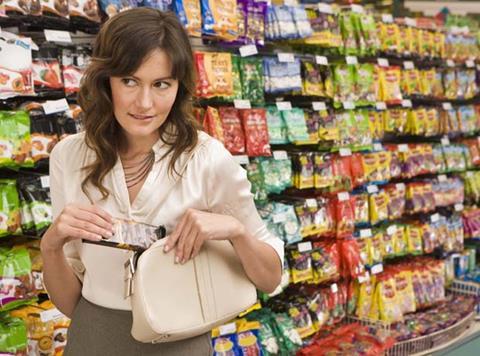 Shoplifting from smaller retailers has virtually been decriminalised in the eyes of the law, Labour's candidate for Mayor of London has claimed.
David Lammy, who is also MP for Tottenham, writes in a report today for Policy Exchange entitled "Taking its toll: the regressive impact of property crime in Britain", that last year's Anti-social Behaviour, Crime and Policing Act set the threshold for a "serious" shoplifting offence at goods valued at £200 or higher, yet the median value of a shoplifting incident from a convenience store is about £40.
The report comes as the Association of Convenience Stores (ACS) prepares to release its annual Crime Report tomorrow [Wednesday], detailing the £35m a year convenience stores lose to theft.
Policy Exchange's report references a poll of 400 members of the National Federation of Retail Newsagents (NFRN) carried out as part of its research which found half of all respondents had been the victim of at least two shoplifting incidents in the preceding three months yet 35% doubted the police's ability to successfully prosecute shoplifters.
The report said that fewer than one in ten incidents of shoplifting was reported to the police.
Lammy said: "The property crime endemic sweeping Britain is going largely unaddressed. Worse still, it is disproportionately affecting Britain's deprived communities.
James Lowman, chief executive of the ACS, said shop theft was one of the biggest operational challenges retailers faced and it was "frustrating" when repeat offenders got away with fines.
"The only way to tackle shop theft effectively is by encouraging police and retailers to work closely together and prevent reoffending with tougher sanctions for repeat shop thieves," he said.
Lowman added that the current £200 shop-theft threshold sent the wrong message to offenders that shop theft was a victimless crime. "Penalties for shop theft should not just be based on a monetary threshold but fully take into account the impact on the victim."
NFRN national president Martyn Brown said: "When our members are the victims of shoplifting, it is their livelihood that is disappearing out of the door. No one should underestimate the impact of retail crime on already hard-pressed retailers."
Theft – the stats
Half of all offenders sentenced for theft offences in the year to June 2014 had 15 or more previous convictions or cautions. This represents 62,000 offenders in one year alone
45 per cent of offenders cautioned for theft offences had already received a caution or conviction for a previous offence
Half of all fines imposed by courts go unpaid
The only recourse a magistrate has to address non-payment of fines is six months imprisonment
Source: Policy Exchange