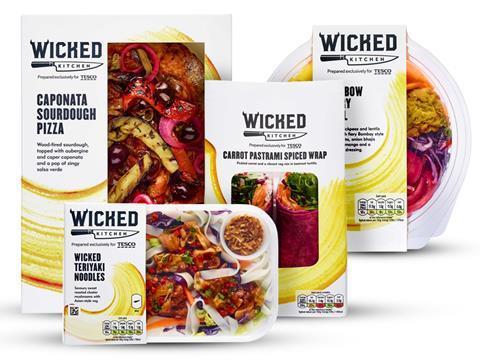 Tesco and Nestlé have been praised for leading the industry in their responses to the trend towards plant-based eating, in a report by food and farming thinktank FAIRR.

The Plant-Based Profits report published today (13 February) by the thinktank, found the two companies were best placed to take advantage of the trend in its study of 16 major retailers and manufacturers.

FAIRR also praised Nestlé, Unilever and Marks & Spencer for setting goals to increase their portfolios of alternative proteins, with Nestlé also tracking how much of its protein is derived from plant-based or animal sources.

However, the research found each of the 16 companies contacted by FAIRR lacked a coherent marketing and merchandising strategy for animal-free proteins, with some retailers placing plant-based alternatives alongside their animal protein counterparts, while others kept them separate.

Retailers were called out for their reluctance to lead consumer demand for a dietary shift towards plant-based proteins, with the report recommending that on pack-labelling of plant-based proteins avoid the terms 'vegan' or 'vegetarian' in order to broaden their appeal.

Costco was criticised for failing to provide adequate responses and not taking action to address the impact of livestock farming on the environment, while Amazon-owned Whole Foods did not respond to the study.

"It's significant that all food producers and retailers engaged by investors now market at least one own-brand alternative protein product," said founder of the FAIRR initiative and chief information officer at Coller Capital, Jeremy Coller.

"Ultimately, this trend is driven by the inability of the global meat industry to manage the environmental, public health and animal welfare challenges the world's current demand for animal protein creates; and that is generating remarkable opportunities for food companies and their shareholders."

The report also highlighted the increasing likelihood of governments introducing a form of taxation "to combat meat's negative contributions to climate change and health epidemics such as obesity and cancer".

Tesco told FAIRR it aimed to reduce its emissions by 35% between 2015 and 2030, with a specific 15% reduction target for its agricultural emissions.

It follow's Tesco's launch of its Wicked Kitchen range in collaboration with its newly-appointed director of plant-based innovation and executive chef, Derek Sarno.

Nestlé announced further inroads into the plant-based market yesterday with the acquisition of a majority stake in Latin American brand Terrafertil, which has a growing presence in the UK health market. The move comes after the food giant took over the US food manufacturer Sweet Earth in September 2017.

The companies surveyed included Tesco, Sainsbury's, Morrisons, Marks & Spencer, Ocado, The Co-op Group, Whole Foods, Walmart, Costco, Kroger, and Ahold-Delhaize, with manufacturers Nestlé, Unilever, General Mills, Mondelez and Kraft Heinz also contacted.