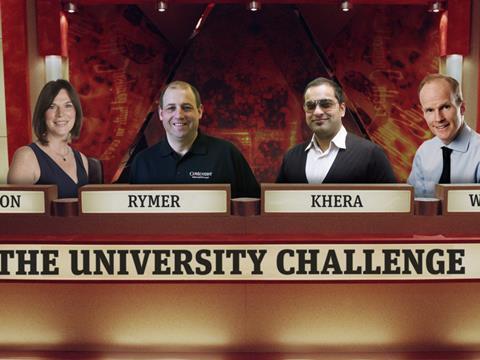 Cheap lager. Chicken chow mein Pot Noodle. And a haul of energy drinks. The crumpled grocery list of all hungover university students at their local c-store armed with the final fiver in their bank account. Or is that old stereotype wearing thin?

While students in the 1990s tucked into budget 'bacon scrap pie' and microwaveable ready meals, today's health savvy intake are more likely to whip up bulgar wheat salads, mixed with kale and topped with feta, according to a new report this month by LoSalt, which mapped student cooking for the past 50 years.

Already, many major symbol groups are taking note of how to win the new university challenge, investing big bucks in campus c-stores in a bid to win custom from the half a million bright-eyed freshers arriving each year in the UK. In April Blakemore opened two brand new stores at the University of Nottingham in a bid to grow its university-based estate, with stores already up and running at the University of Essex and De Montfort University. It boasted "carefully selected seasonal offers" and a big focus on health. Upmarket SimplyFresh took over operation of the University of Surrey's 5,000 sq ft campus store in June, adding in hot food counters, salad bars and cold-pressed juices (see box). And in September Costcutter ploughed a six-figure sum into its University of Birmingham store, doubling its size to over 1,000 sq ft and adding extended fresh produce, promotions and own label.

This activity shows how, with their numbers swelling each year, students are becoming an increasingly important demographic for all retailers. In 2015, 511,730 nervous Freshers arrived at student accommodation, a 3% increase on 2014, and early figures for 2016 show a further 1% rise in the past 12 months.

Living off meagre student loans and titbits from parents, these students are thrifty. Their basket spend is 25% lower than the average shopper, according to Him! and they shop for groceries marginally less frequently than the average shopper too, traipsing in only three times per week.
A student friendly SimplyFresh
The first thing to greet University of Surrey students as they walk into their new SimplyFresh is an aisle crammed top to bottom with snacks, sandwiches and soft drinks arranged in easy meal deals and housed in "acres of refrigeration". It's hands down the most popular category for students racing between lectures, who can simply "turn right as soon as they go into store and get that express solution" says creative director Davinder Jheeta.
Two months after opening the 5,000 sq ft store on campus (its biggest store yet), the symbol is shedding all sorts of misconceptions about student eating with unusual fruit and veg flying off the shelves, and posh popcorn and healthy snacks among bestsellers.
Artisan bread is piled up alongside local chutneys, chillis and dips. There's a large range of chilled meats and fish, and a selection of craft beer sits alongside packs of premium pork scratchings. Ethnic lines across the range cater for a large international student population originating from no fewer than 120 countries.
Taking up a whopping 1,800 sq ft, or one third of the entire store, is a hot food counter serving dietary-specific, gluten-free vegan and organic options. A fresh salad bar and smoothie counters sit alongside.
There's a Post Office, Amazon lockers just outside, a Costa Express machine and a few racks of university merchandise, all intended to create a one-stop shop for Surrey's 14,000 students. "We wouldn't normally have home gadgets like irons, kettles and microwaves but there's a small section of that, and a more diverse range of stationery," adds Jheeta.
SimplyFresh has installed self-serve checkouts. Students can sign up to an in-store app that maps their visits using geofencing technology, issuing push notifications with offers and special deals, as well as tracking their purchases.
There are dedicated store channels on Instagram, Facebook and Twitter and the team also link in across social media with the university and the Student Union accounts. "Social media is the number one tool to get critique from the consumer," adds Jheeta.
But when they do shop they opt for c-stores over supermarkets. The channel is the only one in which students are more likely to visit regularly than the rest of British shoppers, with 84% heading to their local corner shop once a week.

And, crucially, university graduates will earn up to £12,000 more a year than their non-graduate peers, the equivalent of £500,000 more over their working life, to spend on pricier food and drink.

It's a long-term gain Davinder Jheeta kept in mind when he was appointed creative director for SimplyFresh in 2013 to raise the brand's profile. "I adopted the Starbucks model, which is to target the 18 to 24-year-olds, and when they have a sizeable income they go on to the high street and know your brand," he says. "Putting the brand into the closed university market creates an opportunity to really engage, to send the right message and talk about the right things to the exact customer base we're trying to attract to our independent retailers on the high street."

Any retailer looking to do the same needs first to forget all the lazy student stereotypes, though, insists Katie Littler, communications director at Him! "They are less likely to smoke, less likely to drink, and healthy options are more important to them than the wider convenience store shopper base," she points out. Only 9% of student baskets contain a pack of fags, compared with 17% of all shoppers, and a little over a third (37%) don't even touch booze, compared with just 30% of all Brits.

"Students are buying purple sprouted broccoli. I would never have imagined that 20 years ago," laughs Jheeta. An accidental overordering of Latin American dragon fruits into the Surrey campus store left him nervous but turned out to be a big hit. "The dragon fruit was the first thing to sell out. There was intrigue as they hadn't seen it before and wanted to try it."

Extended fresh produce and chilled lines at Costcutter's revamped Birmingham campus store have even helped drive a sales increase of more than 58%.

Food to go is the resounding winner, though. Grabbing quick snacks or lunches is the top footfall driver into c-stores for students, according to Him!, prompting 40% of all visits. "That's a massive element of the university trade," says Stuart Ware, head of new business at Blakemore, with crisps, drinks and snacks all heavily promoted at its four campus stores.

SimplyFresh dedicates an entire aisle to its lunchtime meal deals, with bottled water sales outstripping Coke. "When you look at the sandwiches, they're buying dietary specific ones; they're not buying Walkers but Ten Acre and Propercorn," adds Jheeta. "They want interesting products marketed well specifically for that customer base in a welcoming environment."

A BWS section boasting more than Lambrini and White Lightning is crucial, too. For example, "as the popularity of craft beer grows outside, it does in universities as well, so it's not a case of putting in lots of cheap alcohol, it's more a case of a diverse range as their tastes are really diverse as well," says Ware.

All products need to be geared to an annual average budget of £10,931 (including student loan costs), though. "Students are extremely price-conscious," says Luca Pagano, CEO at insight agency BeMyEye. "We all know university fees are going up. There are very few things where students can save and one is food."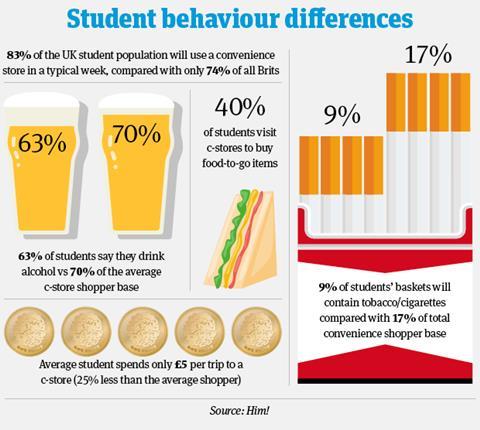 And c-stores are not always the pricier option. Though seven out of 10 items in a typical student basket were cheaper in a supermarket compared with a convenience store, according to BeMyEye research, snacks like Pot Noodles, KitKats and avocados were cheaper.

But "c-stores that are after the student wallets need to be much more price aware, and make that a feature of their offer," advises Danielle Pinnington, founder of Shoppercentric. "They might find that loyalty reward schemes or solution promotions resonate well with this group. Or finding top-up solutions distinguishable from the big four such as a local dairy or freshly baked breads."

Blakemore tailors promotions to be "student orientated" at its campus stores, agrees Ware, with a range of £1 fresh produce, and offers on impulse buys like confectionery and snacks, rather than cupboard staples.

It also offers contactless and Apple Pay, with quick payment methods a "major part of the business" in student stores. In fact, contactless overtook chip and pin as the most popular payment method among students, a survey by Vista Retail Support found last month, with four in 10 opting to pay with a tap.

Retailers have to be creative and "think laterally" to win favour with the student market, believes Nicholas Gill, founder at marketers Team Eleven. Create a "localised grub club" where students can create "regular, wholesome and spectacular meals" and "use social tools to help them plan for meals".

Or "think about using social media channels like Snapchat to run simple promotions with a bit of humour and personality" suggests RPM senior strategist Gloria Cheng.

It is a case of simply finding some way to hold their attention. "The current trend of more intense local shopping means all consumers are becoming less and less loyal to brands and retailers because there is an abundance of choice," says Pagano. And c-stores with nothing to offer but cheap frozen pizza and bargain basement Pinot Grigio will quickly find themselves chucked straight off the student agenda.