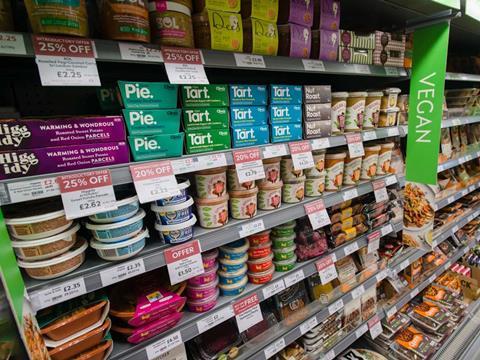 Environmental concerns and the popularity of veganism are among the key factors affecting shoppers' choices, according to Waitrose's Food & Drink Report 2018-19.

The sixth annual study, based on responses from 2,000 consumers, found consumers' awareness of their wellbeing and the environment were having a massive impact on how they shop and eat. A third now followed meat-free or meat-reduced diets, including 13% who were vegans or vegetarian and 21% who were flexitarian.

Sixty per cent of the vegans and 40% of the vegetarians had adopted the lifestyle in the past five years, and 55% of those said this was due to animal welfare concerns, while 38% cited environmental concerns.

Eighty-eight per cent of those who said they'd watched the final episode of BBC's Blue Planet II had changed their behaviour since, with 69% using refillable water bottles and coffee cups more often.
Two-thirds of 18 to 24-year-olds said they were now more likely to opt for reusable coffee cups, as did 56% of 35 to 44-year-olds.

Waitrose said it had seen an 800% increase in questions about plastics from customers.

Seventy per cent of consumers said pressures of life had increased in the past five years, with almost half working longer hours. Waitrose said this had led to a movement towards lighter, healthier food in the evenings.

The lighter meal trend, however, was bucked at weekends thanks to roast dinners. Seven in 10 said roasts were a great value meal, and potatoes (38%) followed by meat or meat alternatives (19%) were the most popular ingredients for them.

"Being mindful of how we live and eat has become a priority in today's world," said Rob Collins, Waitrose's managing director. "As we become increasingly mindful of our own health, the wellbeing of our family and that of the planet, we're reshaping how we shop, cook and eat."

The report also cited future food trends, such as West African cuisine and innovative ice cream inspired by street vendors in Thailand, Hong Kong and Taiwan.