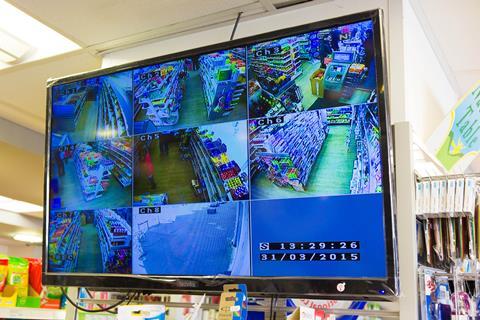 Convenience retailers have invested £246m in crime prevention measures over the past year as they continue to fight back against the torrent of retail crime.
According to the 2022 Crime Report, launched today by the Association of Convenience Stores, each store spent an average of £5,239 on crime deterrents such as security staff, CCTV and intruder alarms.
The trade body said the cost of crime prevention represented a "significant increase" on the value of investment that retailers spent the previous year, equating to £71m more in total or £1,515 extra per store.
The investment was targeted at tackling the 970,000 incidents of theft, 800,000 incidents of verbal abuse and over 9,000 robberies that occurred over the past year, as well as financial threats such as fraud and cybercrime.
The report revealed however that the cost of crime, and investment in tackling crime, has resulted in a 9p 'crime tax' on every transaction made in stores. This has been hampered by staff shortages in the security sector and the global chip shortage pushing up the cost of making a store secure.
"During the pandemic, convenience stores were repeatedly targeted by criminals as they were often some of the only businesses trading, but now retailers have sent a clear message that they will not sit back and take this," said ACS CEO James Lowman.
"They have invested a record amount to keep their businesses, colleagues, and themselves safer whilst ensuring that they have usable evidence to provide to the police in the event of an incident taking place.
"The cost of this investment, almost a quarter of a billion pounds, primarily comes from retailers' own reserves. At a time when all costs are rising in the business, these figures demonstrate just how much of a priority tackling crime is for every local shop trading across the UK."
Over the past year, progress has been made on shining a light onto the crimes committed against local shops. The Police, Crime, Sentencing and Courts Bill is set to introduce a new aggravated offence for attacks on people serving the public, 37 of the 42 Police and Crime Commissioners in post now reference business crime as part of their local plans, and the Home Office-funded Shopkind campaign has reached thousands of businesses in the retail sector, reminding the public to be kind to colleagues and each other.
Lowman added: "But we still have a long way to go. Too many crimes are still not being reported because many retailers have poor experiences of the response from the police and courts. We urge retailers to ensure that all crimes are reported to the police to demonstrate the true scale of the problem, and for the actions of the police and justice system to be targeted to stop reoffending."