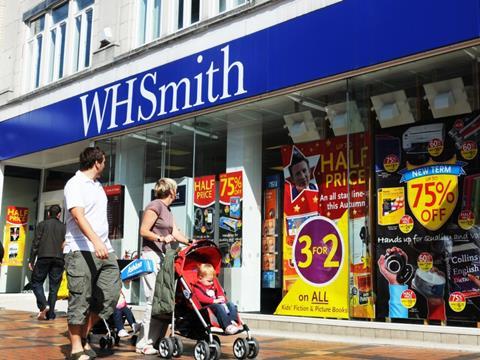 There is a certain reassuring familiarity that comes with every WH Smith trading update, with the regular theme of higher travel sales and high street profit growth. This week's pre-close ­trading update for the year to 31 August 2016 was no exception, with "strong" performance in its travel division and "gross margin improvements" on the high street meaning the retailer is on course to meet market expectations.
In travel, WH Smith said its new store opening programme in the UK and internationally "is on track" and it continues "to see further opportunities in the international news, books and convenience travel market". It shrugged off market concerns over tough comparisons on the high street given the 2015 adult ­colouring boom by reassuring that profits are "in line with our expectations".

WH Smith shares are up by almost 40% over the past two years, but have recently come under pressure given worries over the tough year-on-year comparisons its faced this summer. The shares plunged by around 17% in June and are still trading 16.5% down from their early April peak of 1,893p. Retail analyst Nick Bubb called the update "reassuring", and shares rose 0.9% to 1,604.4p on Wednesday but had slipped back to 1,579p in morning trading on Thursday.

Elsewhere, the news that unhappy SAB Miller shareholders have an increased chance to vote down its mega-merger with AB InBev hit the headlines this week, but the market signalled it remains confident the deal will go through. Tuesday's High Court judgement to exclude SAB's two biggest shareholders from an investor vote barely moved the market, with SAB share actually gaining 2p during the day to edge up to 4,381p.

News that Nielsen found the UK grocery sector delivering the best growth figures for almost three years in the four weeks to 13 August boosted supermarket shares on Tuesday. Tesco was a best market share performer for the big four and its share price jumped 4.3% to 166.3p, while the positive sector sentiment helped Sainsbury's up 1.3% to 244.9p and Morrisons up 0.7% to 198.2p.