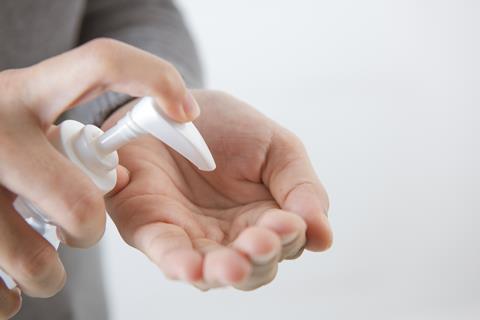 The CMA has issued a warning to retailers that price gouging will be met with enforcement as its latest Covid-19 taskforce report reveals hand sanitiser prices were inflated by as much as 400% during the lockdown period.
The authority has condemned the practice of price gouging in a joint statement published alongside its third taskforce report today. The statement was signed by key trade bodies including the British Retail Consortium, the Association of Convenience Stores and the Federation of Wholesale Distributors.
The report, based on evidence received by the CMA since launching its research group, revealed hand sanitiser prices were inflated the most, by a median reported average of 400%, prompting 2,000 complaints.
The highest rise in price for a bottle of 50ml hand sanitiser was seen by pharmacies, where prices peaked from £1 in January to £5 in the week 15-21 March. Symbol groups showed jumps of nearly £4 in the same March week, up from £1.50 in January, while the independent channel saw a smaller rise to £3 in March, falling back to £2 in May.
The multiples kept prices stable at between £1 and £1.40.
Complaints showed the price of paracetamol rose by a median 220%, while other high-demand products including flour, meat, toilet roll, rice and eggs climbed a median 160%.
The Covid-19 Taskforce, established to identify and monitor competition and consumer promblems during the crisis, contacted 277 traders that had collectively been the subject of over 4,600 complaints.
The research suggests reports of price gouging have fallen, though the CMA warned that as restrictions eased there was a risk of further spikes.
It warned that as the crisis developed, new products could be required by consumers on a large scale, and these may become the focus for unjustifiable price increases.
The joint statement urges "the minority" of retailers who continue to profiteer from the coronavirus outbreak to take note that the authority will "not hesitate to take enforcement action where there is evidence that the law has been broken".
The CMA will be keeping all evidence it receives on the practice under review.
The statement read: "We remain concerned about the behaviour of a small number of businesses at this time. The vast majority have responded responsibly, but there is a minority who have not.
"Those who inflate prices to profit off the backs of their customers are adding to their distress at a time of particular vulnerability and may be severely damaging their own reputation. Consumers are likely to remember those businesses who attempted to profiteer and may well vote with their wallets once this crisis ends. For many businesses, the crisis could represent an opportunity to do the right thing, and as a result develop relationships with new customers."
FWD CEO James Bielby said: "It is important that the CMA recognises the important role of wholesalers in supplying independent retailers, which have been vital during Covid-19 in serving vulnerable and rural communities with limited access to other shopping options.
"We all know that cost pressures, and price rises, have resulted at all parts of the supply chain during this crisis, but it is right to call out the tiny minority of retailers – primarily pharmacies – who have sought to take advantage and sought to inflate prices unnecessarily."
ACS CEO James Lowman also commented on the report. "The Covid crisis has illustrated just how important local shops are to their customers and communities, and the vast majority of stores have offered new services and coped with operational challenges like implementing social distancing and supply problems without changes to their pricing," he said.
"In a small number of cases, retailers across a number of sectors have been accused of increasing prices, and ACS has been proactive in working with the CMA on a campaign to discourage these practices and to promote retailers telling the CMA when they see this activity from other businesses. We are continuing to work with the CMA, including adding ACS' voice to the joint statement issued today."