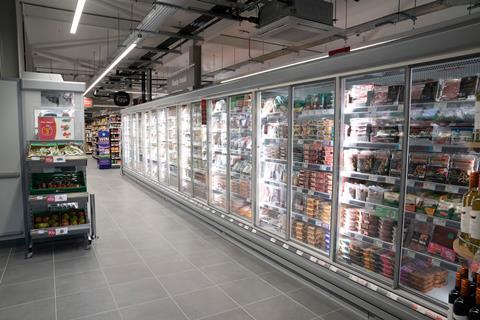 Convenience retailers are seeing an uptick in fresh sales as the cost of living crisis spurs more shoppers to cook from scratch.
Costcutter retailer Sue Nithyanandan, in Epsom, told The Grocer fruit & veg sales had soared by 25% over the past month, to £600 a day. Daily chilled sales, including meat, fish, cheese and milk, had increased from £850 to £1,000.
"We get the feeling that more people are cooking from scratch as the cost of living has gone up," she said. "The margins aren't huge but it's driving the business forward with more transactions going through tills."
She added the warm weather was also contributing to the sale of alcohol and soft drinks.
Morrisons Daily franchisee Harj Dhasee also reported a similar pattern, particularly at weekends.
"We're selling more fresh produce, including chicken and veg, because more people are cooking at home rather than going out to eat," he said.
Dhasee added there had also been a big shift in shoppers leaning towards promotions and own label in a bid to seek better value. "More people are looking at price, rather than brands," he said.
Wholesaler Nisa said fresh sales were showing "good growth". Over the past few weeks, it said fresh produce was showing 4% year-on-year growth, while protein was 6% higher. This was particularly prominent among salads, fruit, fish and sausage, it added.
One Nisa retailer, Richard Kent, said he had seen an increase in shoppers purchasing from his reduced section, which often homes fresh food such as bread and meats.
Fellow Nisa retailer Martin Corban, MD of Amacor Capital, said it was inevitable that shopping habits were going to change as consumers continued to grapple with the cost of living crisis.
The Co-op also said its key fresh areas were performing well, with protein being the biggest driver.
Its head of category for protein, Rebecca Oliver-Mooney, added that protein was becoming "increasingly important" for building basket value and that total basket spend doubled when protein was part of the purchase.
"Co-op is fulfilling that moment for quick and easy meals and we can see this coming through with our range of good value scratch assisted and assembled offerings continuing to drive growth," she said.
The Association of Convenience Stores said retailers were "well placed" to help customers manage their money during the crisis, and provide the products and ingredients that help them cook from scratch.
CEO James Lowman said the trade body was also keen to see as many convenience stores as possible promoting the benefits of the Healthy Start programme, which enables eligible customers to buy healthy food and milk just by using their prepaid Mastercard.