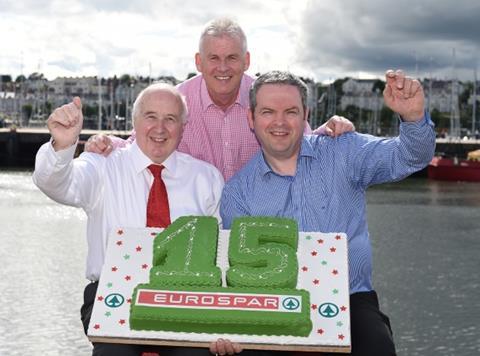 Eight more Eurospars will open in Northern Ireland in the next 12 months, marking an acceleration in Henderson Group's rollout of the hybrid format.

Henderson, which owns the franchise in the province, opened its first Eurospar in 2000, but it's opened nine new stores in the past 12 months to take the number of Eurospar sites to 44.

The total will reach 46 by the end of the year, with a further six opening in 2016. Henderson now employs a total of 613 staff across its 16 company-owned Eurospars.
"In its 15th year the EuroSpar brand has experienced significant growth," said Henderson sales and marketing director Paddy Doody. "Shoppers throughout Northern Ireland are now more aware than ever of this convenient supermarket option and we are delighted to continue to open more stores throughout communities in Northern Ireland.
Doody added: "Eurospar is a unique hybrid between a convenience store and a supermarket. As shopper habits evolve and people look to shop little and often we believe Eurospar is fully equipped to satisfy. It offers a wide range of fresh and local produce, in a convenient location and at value prices that rival many of the multiples.
"Not only are we providing local employment opportunities but are offering a range of local produce. Over 75% of fresh products on the shelves are sourced on the island of Ireland, and The new Enjoy Local range, launched in April, is made up of 126 products from 22 local suppliers."
It was by meeting the needs of those new shopping trends that a demand for more Eurospars in local communities had arisen, he added.
Sales for the Henderson Group increased 3% in 2014 and the group employed a further 100 staff members.
"Despite a difficult climate for retail, we have continued to invest heavily in our business, particularly in bringing our customers the best locally produced fresh food, and as a result we have maintained our competitive advantage in the marketplace," said Henderson group finance director of the Henderson Group Ron Whitten.
EuroSpar stores have opened in Dundonald, Ballymoney, Crossmaglen, Richhill, Banbridge, Lisnaskea and Kilkeel, as well as two in Belfast in the last year.