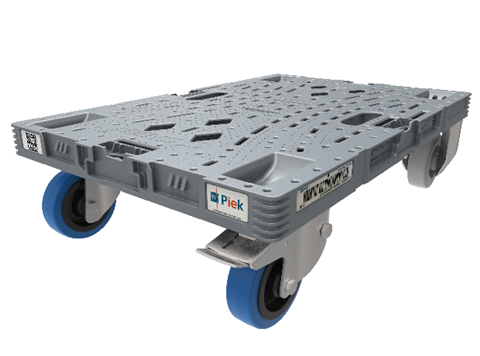 Henderson Wholesale's trial of Chep wheeled dollies has boosted sales and slashed supply chain costs.

A successful three-week pilot at 13 Spar stores in Northern Ireland triggered a double-digit growth in beverage sales compared to existing shelving displays. It also cut time spent maintaining stock levels by 10 minutes.

This paves the way for a rollout across the rest of Henderson's stores in the country.

Chep's plastic wheeled dollies are loaded with pre-assembled promotional products, allowing staff to easily wheel products from the warehouse floor on to delivery vehicles bound for grocery stores.

"The store managers welcomed a ready-to-display type of solution. Sales during the trial period looked very positive - a double-digit growth in sales of the beverages displayed on dollies was reported compared with shelf displays. The Chep dolly improved the end-to-end supply chain process by removing handling stages at both distribution centre and store levels. Importantly, it saves staff time in maintaining stock levels. The store saved at least 10 minutes for each Chep display dolly that was delivered," said Henderson wholesale logistics manager Alan Abraham.

"We definitely want to incorporate dollies in our promotional planning for next year. Having a dolly that can be positioned in different spaces through the day, relating to footfall, is a big benefit to promotions in the convenience channel."

Chep UK & Ireland vice-president and country general manager Helen Lane added: "Chep's dolly has been successfully used in store promotions, providing enhanced product visibility and easy replenishment at the point of sale. The Chep dolly improves the flow of products across the supply chain.

"We are very happy with the results of the dolly trial. Investing in new products and services to improve customer experience is a fundamental part of our strategy."

Henderson Group has invested £30m in redeveloping its headquarters in Mallusk, Belfast, where it opened a £12.5m warehouse in September.

Spar wholesaler Henderson currently distributes 7,000 ambient, fresh and frozen products across 477 stores.