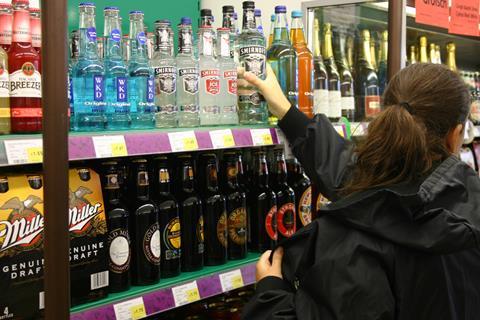 MPs have voted against the introduction of a new clause to the government's flagship policing bill that would have made attacking a retail worker a separate offence.
New Clause 31, proposed by shadow policing minister Sarah Jones, would have created a new offence for assaulting, threatening or abusing a retail worker. It would have also introduced an aggravated offence with an increased imprisonment term of up to 12 months.
The clause was subject to a vote in the House of Commons during a debate on the Police, Crime, Sentencing and Courts Bill yesterday, but was defeated by 350 votes to 233.
Another clause looking to bring in similar provisions was withdrawn.
The vote comes just days after the Home Affairs Select Committee made a series of recommendations to better protect shopworkers, including the introduction of a new offence for attacking a shopworker.
"We are disappointed that the government has again refused to take action to bring to justice those who attack shopworkers," said ACS CEO James Lowman. "These offences must not be tolerated, and it's clear that the existing legislation does not go far enough to deter offenders.
"We urge the government to take forward the recommendations made by the Home Affairs Committee, which include not just a new offence, but a wide range of measures to stop reoffending, intervene with rehabilitation for those with addiction, and increase reporting and response rates."
Usdaw general secretary Paddy Lillis said: "MPs had the opportunity to back a new law to protect shopworkers, which is supported by our members, customers and retailers. We are deeply disappointed that they let that opportunity pass them by at a time when our members are facing unprecedented levels of violence, threats and abuse.
"However the minister promised twice during the debate that they would bring forward an amendment in the House of Lords and we urge the government to keep to their word and ensure that the measure they bring forward will be substantial and deliver much-needed protections.
"When retail employers, leading retail bodies, the public and the shopworkers' trade union call for legislation, it is time for the government and MPs to listen. In Scotland, MSPs voted through a new ground-breaking law to give workers the protection they deserve. We are now looking for the UK government to end their opposition and deliver on their promise."
Co-op director of campaigns and public affairs Paul Gerrard said: "While we are disappointed that MPs voted against backing a new law and didn't take the opportunity to protect shop workers last night, we are pleased that the Government's intention to bring forward measures as this Bill makes its way through the House of Lords has been confirmed.
"As we saw last night, there is support across the political spectrum for frontline shopworkers to get the protection they need, and deserve. Violence, abuse and anti-social behaviour should not be part of the job, and we would like to thank those who backed the amendment and showed retail workers that they were being listened to and, taken seriously."