Spar wholesaler Appleby Westward faced two store closures after four colleagues tested positive for coronavirus.
Marketing director Nick Kenworthy said the company had been preparing for such an event since the beginning of the pandemic, and had strict procedures in place to ensure the safety of staff and customers "was put first".
"When the pandemic started, we drew our strength from a variety of places," Kenworthy told The Grocer. "Our independent retailers, our team at Spar UK, our four wholesaler partners and Spar internationally, where we were able to tap into best practice from countries Spar operates in.
"We learned from each other, and shared information on how best to work in a pandemic."
According to the wholesaler's policy, its first course of action was to close the stores for a deep clean.
"We take Covid-19 extremely seriously," he said. "We review our policies and protocols on a daily basis to ensure our customers and colleagues can shop and work safely, and with confidence."
The two stores subject to the positive cases were Truro-based Spar Playing Place, and Spar Quintrell Downs near Newquay, which closed within two days of each other during third lockdown.
The former had one colleague test positive for coronavirus, while the latter had three, where 15 and 13 members of staff work respectively.
The wholesaler's next step was to inform the public of the outbreak with a notice on the door that the store was closed.
It then reached out to staff who were in close contact with the diagnosed employees, who were already self-isolating, to decide if it was necessary for them to self-isolate for two weeks as well, and to follow up with a test.
Read more:
"We prioritise those who we believe may have had close contact first, before going out to speak to all other colleagues from that store," added Kenworthy.
"We make it a priority of keeping people informed and giving the team the reassurances they might need."
The wholesaler, which supplies 294 Spar stores across the south west of England, put these procedures in place at the start of the pandemic, including a test clean in one store to prepare for a positive Covid-19 diagnosis.
During the series of lockdowns and scattered tier systems, all stores have been provided with updated social distancing PoS kits, PPE and hand-sanitising stations, while the company also conducted weekly Covid-19 update calls with the senior team on new guidance and policies.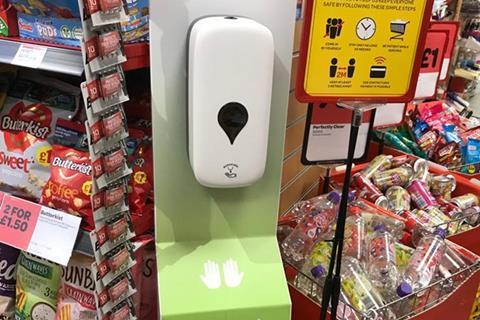 To add another layer, its regional distribution centre in Saltash, Cornwall uses Reactec social distancing proximity watches to warn warehouse operatives when they are too close to each other.
The staff are also assigned to a bubble and can only work in the office on their 'bubble' days, ensuring they don't cross over.
It also has a temperature sensor on all external doors to measure an employee's temperature on entry.
"Our thorough protocols have thankfully limited the number of cases we have seen in our stores," added Kenworthy.
"We recommend the same approach to our independent retailers and ask them should there be a positive employee test in their store, to make us aware of it."
Kenworthy said however the main challenge the company faces are members of public who are still reluctant to adhere to guidelines and legislation.
"Customers in general have been excellent and understand we are doing these things to keep them safe," he said. "Our store teams have been great and have worked fantastically hard. They continue to do so across all our company-owned and independent stores and have shown great resilience throughout the past 12 months."