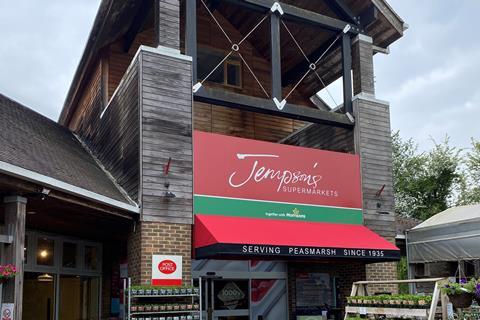 Independent retailer Jempson's has opened its first Together with Morrisons store, promising shoppers thousands of reduced prices under the new supply deal.
The 29,000 sq ft store in Peasmarsh, East Sussex, relaunched today as the first of six stores to convert to the dual-branded fascia. The next one to change over is its smaller Northiam convenience store.
Previously supplied by Nisa, the Peasmarsh store offers shoppers almost 30,000 products, with Morrisons now supplying over 60% of the stock, including up to 9,000 own-label lines.
Owner Stephen Jempson told The Grocer the new partnership allowed the business to access a wider range of products that could fill the "length and breadth of the store", as well as more volume promotions and bigger packs sizes for bulk purchases, such as a 24-pack of petfood.
Value offer
He said it was helping the business to cater to a new audience which "inhabits the area" but also targets younger shoppers and families who weren't previously able to shop at the business because "they were after a more value offer".
"When Co-op bought Nisa, it gave us access to Co-op own-label products which, although premium priced, was excellent quality," said Jempson. "But the problem was, as it caters to smaller convenience stores, it didn't have a large enough range to fill our shops and satisfy the needs of our customers.
"We had to use over 100 other suppliers to provide a credible offer to our customers and that's what's been happening over the last three or four years, so we had to make a change."
He added that Morrisons' vertical integration method was also a key selling point, as it helped to secure supply and provide a broader range of meat, fish and fruit & veg.
Jempson's also continues to provide shoppers with products manufactured at its own production sites, including sandwiches, bakery, and ready meals.
The relaunch comes as Jempson's also revealed it is opening two new sites in South Chailey and Paddock Wood this summer, taking its retail estate to eight. The business said it was looking to recruit more people to its head office as it expanded.