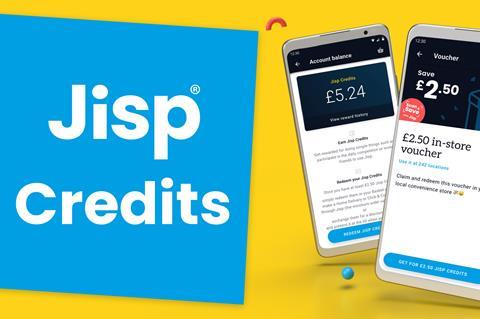 Online convenience platform Jisp is launching a loyalty scheme for the sector, dubbing it the 'Clubcard of convenience'.
The scheme, which is set to launch in March, will allow shoppers to build monetary benefits every time they use its Scan & Save or home delivery services via the Jisp platform, which are then converted into vouchers. These monies will all go into "one pot" under the newly coined 'Jisp Credits' section of the app.
Shoppers can choose how they redeem the loyalty, either in store by scanning the digital voucher at the till, or using it to discount their delivery.
The minimum threshold is £2.50. It can then go up to vouchers worth £5, £10, £15 and £20.
Chief customer officer Greg Deacon told The Grocer the business was still working through the "finer detail" as to what the fixed amount a shopper would earn every time they used Jisp in order to hit the first threshold.
"We want it to be achievable, without being too rewarding," he said. "We are looking at anything up to 10p.
"The key is to recognise people that use the services well and are equally rewarded to drive their retention and continue visits to that store."
He explained the loyalty scheme had been built so shoppers could only gain rewards in their local store, meaning retailers did not have to worry about shoppers redeeming their vouchers at another store.
"It has been geolocated so we can map customers to their local stores," Deacon explained. "For example, if I use Scan & Save in my local store but then I travel into London one day and visit a Nisa store and use it there, I can still get the benefit of using Scan & Save in that store but I just won't get rewarded, or be able to redeem my vouchers there.
"It equips retailers with the ability to offer a loyalty scheme that will increase frequency of visits their stores, increase spending and increase loyalty, which in turn will make them more money."
Deacon added that the scheme also offered an opportunity for brands, with more customers going back into stores to buy their products. Wholesalers, like Nisa, would also benefit as retailers ordered more of the brands' products through them, he added.
"It's a cyclical, self-fulfilling service and a win-win for everybody."