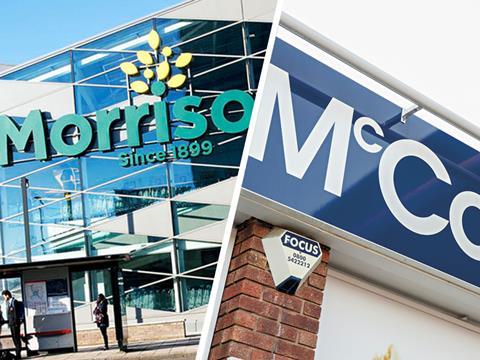 McColl's Retail Group (MCLS) has signed a deal with Morrisons(MRW) to supply grocery goods across its estate under the relaunched Safeway brand.
McColl's said this "long term partnership" would provide its 1,300 convenience stores and 250 newsagents with "best-in-class fresh food and grocery offer" through the relaunched Safeway brand, which it will stock exclusively for a period of 12 months.
McColl's said the deal will boost its fresh food credentials and provide its customers with an enhanced range.
The agreement also allows McColl's to improve its commercial terms and simplify its operations as it migrates to a single wholesale partner for the entire estate. The new partnership will replace all McColl's existing supply arrangements in time, most notable its supply agreement with Nisa.
Morrisons will supply both Safeway and branded products to McColl's, with a phased rollout programme starting in January 2018.
Jonathan Miller, Chief Executive of McColl's, said: "As a large, leading multiple grocery retailer with its own outstanding food manufacturing capability Morrisons stands apart from the competition, and we are truly delighted to be entering into partnership with them.
"In McColl's, Morrisons gain a long-term partner of significant scale with a growing neighbourhood convenience estate and in Morrisons we gain access to their best-in-class sourcing and manufacturing capabilities. This will enable us to provide our customers with the highest quality fresh food through the relaunch of the much loved and trusted Safeway brand. This is a defining moment for McColl's and builds on the transformational deal we announced last year to acquire 298 high quality convenience stores."
Morrisons CEO David Potts added: ""We are very pleased to partner with McColl's, and look forward to developing a long and successful relationship together. We are also pleased to be reviving the Safeway brand which we know customers will enjoy.
"This new partnership is a further example of Morrisons leveraging existing assets to access the UK's growing convenience food market in a capital light way. Wholesale supply will help make us a broader, stronger business."
Morrisons said the agreement will take its wholesale supply sales to more than £1bn in due course.
By the end of 2018, the supermarket expects total annualised wholesale sales to all our partners to be in excess of £700m (inc. tobacco) and that this new initiative to make an initial profit contribution in 2018/19, and increase thereafter.
Morrisons revealed it has been developing a new Safeway range since the end of 2016. It now comprises over 400 fresh, frozen and ambient food products, many of which are made in Morrisons food manufacturing sites.
The supermarket added: "The new wholesale supply initiative allows Morrisons to partner with a growing, centrally managed convenience retailer and helps McColl's on its journey towards developing a broader convenience food offer."
McColl's has jumped 7.4% in early trading to 247p, while Morrisons is up 0.6% to 242.4p.