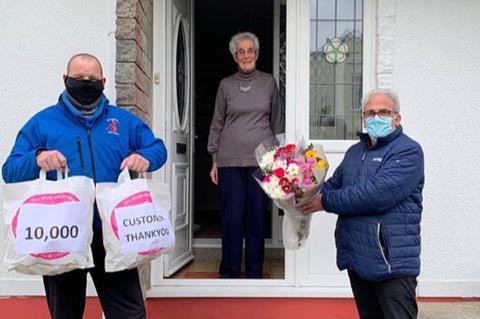 A Nisa retailer in Cornwall has served 10,000 home deliveries as he nears almost a year since setting up the service for self-isolating shoppers.
Gary Batten, who operates two Nisa Local stores in Nanpean and St Stephen, began home deliveries in March last year for people who struggled to secure slots with larger supermarket chains.
Initially, Batten offered a simple service that required shoppers to call the store and place the order. As from the last week of January 2021, the service has now developed and uses the Appy Shop mobile app.
However, Batten said he has continued to offer the phone-in service for a small number of regular customers who are not comfortable with technology or don't have internet access.
"We had never done deliveries at all in the six years since we have had the stores, but we thought we needed to support the local community and it really took off because of the number of people self-isolating and shielding during the first lockdown," said Batten.
"We get quite different customers from the app as compared to those we cater for over the phone. And many of the Appy Shop customers are new to us who we may not see again, whilst our shoppers who call in their orders are loyal and regular customers."
The business is currently serving around 30 deliveries a day, but had previously peaked at 100 per day.
In May last year, the retailer reported his next-day delivery service led to an increase in sales of almost 40% across the two stores since the onset of Covid-19, contributing to an increase in overall turnover of 56% over that past year.
He said this was triggered by "reluctant" locals who refrained from visiting large supermarkets during lockdown and sought home deliveries from their local convenience store.
"We are providing a service to the community that they need and they stay loyal to us because of that," he added.