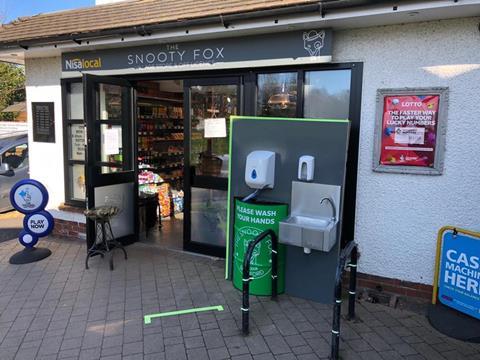 An independent Nisa retailer has installed a handwashing station outside the store, complete with running water, soap and hand towels to help protect staff and customers during the coronavirus outbreak.
The Snooty Fox in Shalford, Surrey, has also taken additional hygiene measures in store to minimise contact between customers and shop workers, with a purpose-built screen around the counter.
Frankie Ago, who owns the shop with his wife Adrienn, said he was conscious of the need to serve his community while also protecting staff.
"I feel we need to do this for the common good," Ago added. "It took about four days to complete from start to finish. I designed it all but used a plumber to connect up the sink and a chippy to do the framework on the hygiene screening. I really hope it will be replicated in other shop entrances."
Nisa retail development manager Richard Bishop added: "Frankie and Adrienn are always forward-thinking as well as always out to look after the community.
"This is such a brilliant idea. They really have shown just how fantastic independent retailers are and how they go the extra mile for the communities they serve, particularly at times of crisis."