Pre-pandemic, £400,000 on a store refit would have been called excessive. But thanks to a boost in sales and a swathe of new customers, retailers had extra cash to play with. Including Premier retailer Mandeep Singh.
Last summer, his store on Teynham Road, Sheffield, underwent the almost £500k makeover. It became the first example of a brand-new format for Premier, called 'Latest Thinking'.
With a greater focus on fresh, food to go, vaping and premium spirits, Singh has seen weekly sales almost double to £65,000. Footfall is up 20%, to 6,500 customers a week.
A week after Premier's win for Symbol Retailer of the Year at the Grocer Golds 2022, we take a look inside the flagship store.
Refresh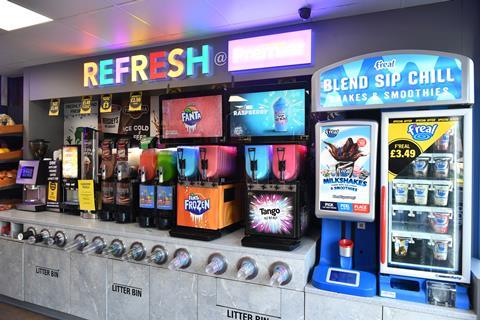 Upon entry, it's hard to miss the drinks-to-go zone. Placed under a multi-coloured banner titled 'Refresh', shoppers have a choice of eight self-serve machines, including: Tango Ice Blast, Fanta Frozen, Jolly Rancher slush, Hershey's Freeze and F'real, offering retailers margins of up to 65%.
It also offers hot chocolate, as well as hot and cold coffee. Singh is driving coffee sales via a loyalty scheme, helping to "repeat business and boost footfall".
With over 600 shoppers on board, it offers a standard £1.50 coffee for £1, or buy two and get one free, if you have a fob. "The aim is to get it on to their keyring so that every time they come in, they have it with them," says Singh. "It's about making it simple and easy for the customer."
The level of choice seems to have paid off. The 4.5m-long Refresh zone now equates to the most profitable part of the store, according to Booker brand director Martyn Parkinson. When it first launched last summer, it was already taking up to £1,000 a day. The added bonus for Singh is the little maintenance the machines need.
As Parkinson explains: "One of the challenges for Mandeep and his family was not to add any labour or complexity, so all you need to do is switch the machines on, keep them clean, and the customers help themselves."
The 'chilled tunnel'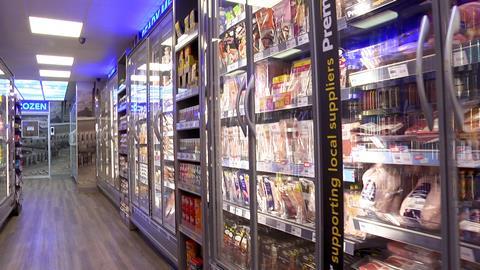 Pre-Covid, Singh had 50 lines of chilled and fresh, including hams and cheeses. But the category became a big seller during the pandemic, outperforming all other areas of the store. As a result, Singh trebled the amount of space dedicated to it as part of the refit, from 3m to 10m.
"One of the biggest challenges we had was trying to convince Mandeep that we could fill this refrigeration," adds Parkinson. "What we've got in Premier is about 305 long-life chilled lines with a minimum of 22 days. And in the last 12 months we've added another 200 lines through BRP, the delivered model, so the majority of this is all new."
With a broader range of fresh meat, including whole chickens and gammon joints, and introducing fish for the first time this year, chilled sales have shot up from £800 to nearly £6,000 a week.
"This is probably where we're seeing most of the growth, and this is what's dragging customers in," adds Parkinson.
The store is also championing local suppliers across bakery, butchery and beers. It has also recently expanded into ready meals, which are selling "particularly well".
Value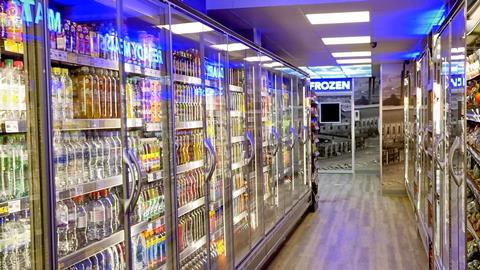 As the cost of living crisis continues to bite, the store has seen shoppers take a big shift towards bulk packs for value, particularly among soft drinks. The store has started to move away from 500ml singles, and switch to bigger bottles and multipacks in a bid to "help basket spend and reduce labour for staff".
It is also driving value among its frozen range, via meal deals and multipack ice cream. The latter has been bolstered with 16 new lines this year, simply because: "We are seeing customers move from singles, that are particularly expensive, into multipacks."
"Frozen has really bounced back strongly over the psat two years", Parkinson adds. "Not only because of the developments in product quality, but also the efficiency it offers time-strapped parents."
That being the case, Singh doubled the space dedicated to frozen foods during the refit, making it a "destination" for shoppers. And it looks to have done the trick, as sales have soared from £500 to over £2,000 a week.
Beer Cave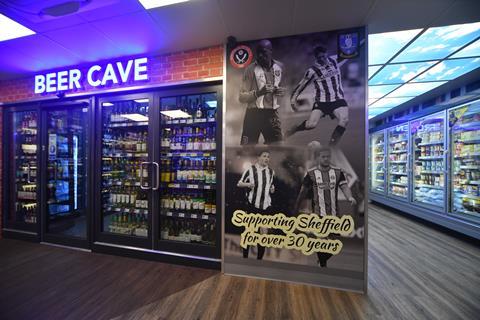 At the back of the store is the crown jewel: the Beer Cave. It's home to a selection of wines, beers, ciders, RTDs, and kegs, kept cool with automatic doors and lit up with LED ceiling panels that show pictures of the sky.
"One of the huge challenges we have in a convenience store is to get footfall to the back third of the store," says Parkinson. "So you have to make it a destination and draw people to it."
Less than two days into opening post-refit, Singh saw a bigger sales opportunity. He called back the builders to double the size of the cave to 200 sq ft, which took him to an overall investment of £30,000.
The key idea behind the concept was to enhance his already well-established reputation for alcohol, and stand out further from competitors.
An easy comparison was against the multiples and discounters, who are "never going to chill beers, wines and spirits because they can't afford to, the margins are too tight."
In fact, beer caves are 30% cheaper to chill rather than normal refrigeration, according to Parkinson. The biggest bill came from automatic doors.
"Everyone thinks this is more expensive, but this is more efficient," he adds.
Vape & tobacco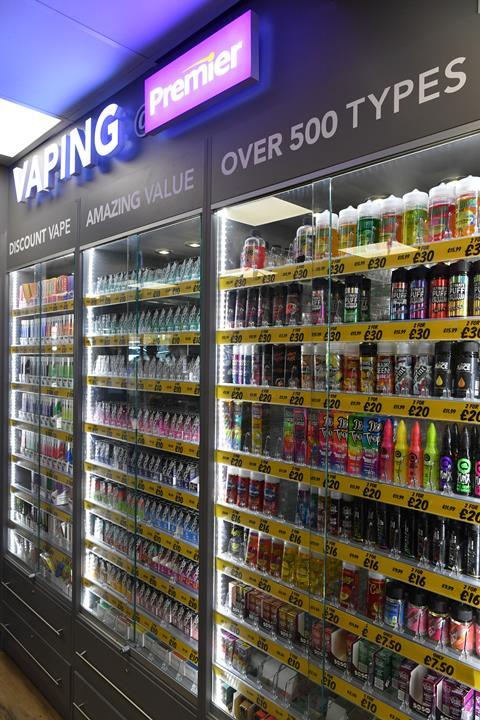 Shopper feedback was a key element of the in-store vape overhaul. Shoppers wanted a more 'vape-shop' environment, where they could view and browse the products themselves rather than looking over the counter.
Singh agreed to put his vape offer onto the shop floor across three bays, with plans to add another bay dedicated to disposables. "It's a quick-moving market, so you've got to be on it," says Singh. "Bars are growing, and they're going to be here for a while."
Sales have now soared to £5,000 a week, with strong margins of up to 45%. Fifty lines are from Booker, while other products are shared across three to four external suppliers.
Unusually, tobacco is stored in a secure unit under the counter. Shoppers instead choose what tobacco product they want from a list displayed on the counter top. Parkinson says as more Premier retailers invest in the new store design, shoppers will see fewer tobacco gantries.
Home delivery
Singh's Drop scheme shows no sign of slowing down since its launch 18 months ago. Even residents within 250m of the store are ordering for delivery.
Fresh continues to dominate basket spend, meaning Singh's promise of a 30-minute turnaround is "crucial" because shoppers need the products "there and then".
Singh's 'fast-pick' storage room helps to control that. It holds up to 50 top lines so pickers can avoid taking it from shelves, enabling a quick turnaround. Singh is planning to expand his fast-pick space.
Singh is looking ahead by other means, too. With weekly home delivery sales standing at £20,000, his next mission is to add another £5,000 a week by the end of the year.
The key to that is to " build it up incrementally", primarily so the store stays in control of profit. "Home delivery is really important as we move forward, as well as loyalty, so you've always got to be thinking outside the box," says Singh.
The plan is to target individual streets within its three-mile radius that haven't used the service before via leafleting and social media marketing activity. Because going outside the three-mile radius could risk slowing down turnaround.