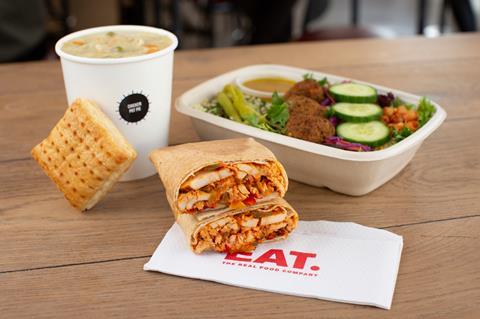 Pret a Manger is giving customers the chance to vote for a menu item to appear in its stores from newly acquired high street rival Eat.
From 16 December, customers can head to Pret's Instagram page and comment to vote for their favourite.
The winning choice will be added to the menu in early 2020.
Customers will be able to choose the bestselling product they want to see Pret stock from a list of three options. Eat's three competing products are Chicken Pot Pie, Firecracker Chicken Toasted Flatbread and Houmous & Falafel Mezze Salad.
"We know Eat customers will miss the food they've enjoyed over the years, so we want to offer one of their favourite products on Pret's menu," said Guy Meakin, UK food and coffee director, Pret. "Once customers have voted for their winner, our food team will work closely with Eat on the finished result and we are looking forward to sharing it with customers in 2020."
The move comes as Pret looks to expand its estate of Veggie Prets, converting a proportion of the 90 Eat stores it purchased in May into the increasingly popular veggie format.