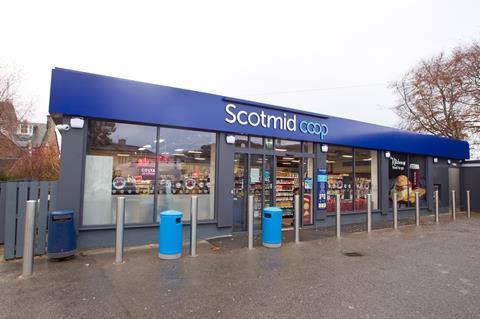 Scotmid Co-op has begun a trial of body-worn cameras in three high-risk stores as it looks to combat the rising tide of retail crime.
According to its Crime Survey 2021, seen by The Grocer, it launched the tech in September in a bid to deter aggression after the stores had fallen victim to an increase of violence.
The move comes after the Scottish society found body-worn cameras to be reducing crime in a rollout of the tech to its Snappy Shopper delivery drivers from 20 stores.
"Shopworkers play an essential role serving com­munities, yet often have to contend with unprec­edented levels of violence and abuse," the business said. "This solution could help address criminal behaviour at the point at which it occurs and empower our colleagues and make them feel more secure."
Scotmid has also extended its Safe-i system into additional stores following a trial with two sites in 2020. Safe-i is a video and audio surveillance sys­tem that is remotely monitored 24/7 by specialist conflict resolution operators. This means at the touch of a button, someone can com­municate directly with the store, observe live footage and assist colleagues with challenging or aggravated customers.
It currently has 40 stores fitted with the system and has budgeted for a further 20 to be rolled out during 2022. There is also a mobile version for stores offering delivery services.
Store manager Suzanne Docherty said: "Staff in the store feel supported and safe knowing that at the press of a button, someone has got their back."
In April, the business also launched its crime logging platform, The Hive, in the hope it would improve accuracy of reporting. In a survey it conducted this year, of which three quarters of its store took part, it found just under a quarter of them only reported 10% of all incidents to the police.
"We strongly encourage our colleagues across all areas of our business to report incidents ranging from anti-social behaviour to theft and all aspects of violence," the business added. "This helps us as a department to see what is going on in stores, which in turn helps us to make informed decisions on where to place our resources."
Scotmid head of profit protection Steve Hogarth told The Grocer it was currently looking to enhance the technology to allow colleagues to report incidents of crime from their hand-held terminals from the till point. This was to make it easier for them to highlight the issues they were experiencing, Hogarth said.
The business has undertaken these security measures in response to the new levels of crime colleagues endured during 2020.
The report showed anti-social behaviour and verbal abuse increased by 38% on 2019 as colleagues had to deal with challenges around social distancing and mask wearing in stores. Covid-19 related incidents in particular made up for 26% of all reported violent crime last year across its entire estate.
"We will continue to regard the safety of our colleagues as one of our key priorities," said John Brodie, CEO of Scotmid. "To fulfil our core purpose of 'serving our communities and improving people's everyday lives', it is essential that colleagues can operate in an environment free from fear of abuse or violence."