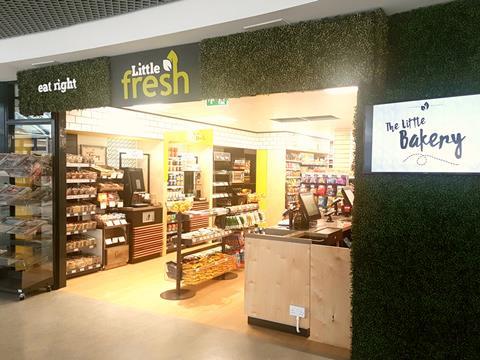 Innovative symbol operator Simply Fresh has launched a new fascia that looks to straddle the divide between convenience retailing and foodservice.

Little Fresh has been dubbed "foodvenience" by Simply Fresh creative director Davinder Jheeta.

There are three stores open so far and the group plans to roll out at least a further seven over the next eight months.

Simply Fresh MD and co-founder Kash Khera declined to reveal who was operating the existing stores but said he was keen to spend the next few months fine-tuning the offer before offering it to independent retailers. Little Fresh is a smaller format than Simply Fresh, with stores ranging from as little as 200 sq ft up to 1,000 sq ft.

"The Little Fresh brand has been created in response to shoppers' need to eat on the go. The convenience channel has been slow to adapt its stores, and more importantly its ranges, to this growing trend," said Khera.

He added the range would be 95% foodservice and food to go, with a bias towards healthier options. The stores will only stock a very small traditional grocery offer. They will also offer distress items tailored to locations, such as personal care items at stores near hotels. "The range is being chosen very carefully," Khera said. "In such a small store every line really has to earn its keep."

Jheeta added: "We're delighted to launch the Little Fresh brand and really tap into a consumer need. These stores capitalise on the 'feed me now' mission. When the consumer is short on time and is unable to shop twice, 'foodvenience' can play an important part in shaping the convenience sector.

"Having identified that this mission was growing in our Simply Fresh stores, we have developed Little Fresh to provide a complete solution and to signify a clear difference in the shopping mission and location."

The symbol operator has also launched a Little Fresh Rewards app, which allows customers to earn rewards based on their spend in store and incentivises return visits.