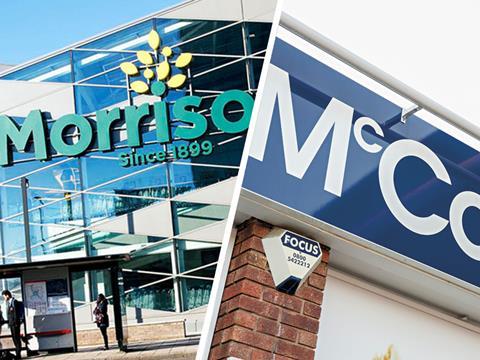 Today's announcement that Morrisons and McColl's have struck a supply deal has sent shockwaves through grocery. So what exactly does the deal involve? What's the rationale? And what are the implications for rivals? We answer the big questions.
What does the deal involve?
Under the terms of the deal, Morrisons will replace Nisa and P&H to become the sole supplier of grocery products to McColl's network of 1,300 convenience stores and 250 newsagents. It will supply branded goods as well as the relaunched Safeway brand of own-label products. The Safeway range will initially include more than 400 fresh, frozen and ambient food products, many of which are made at Morrisons' food manufacturing sites.

Rather than supply direct to store, Morrisons will use the third-party logistics model (3PL), working with DHL in this instance.

McColl's CEO Jonathan Miller told The Grocer today the deal was for an initial six-year period, with a phased rollout period kicking off in January 2018.

McColl's will have exclusive rights to the Safeway brand for 12 months, after which other retailers and wholesalers will be able to sell it.
What does it mean for Morrisons?
For Morrisons, this looks like an absolute winner and a sign it has more than learnt its lessons from its first aborted attempt to crack the convenience sector with M Local, which came to an abrupt end in 2015.

"When we exited M Local, we never said we were getting out of convenience," says a Morrisons spokesman, who also points out that it began talking publicly about developing its wholesale strategy last March. "That was 10 months before Tesco-Booker popped up."

The Tesco-Booker deal, announced in January and currently subject to a phase two investigation by the Competition & Markets Authority, has fuelled speculation that Tesco rivals will be forced into defensive moves of their own. The Co-op and Sainsbury's have both circled Nisa, with Sainsbury's currently in an exclusive due diligence period to decide whether it will make a formal bid. Sainsbury's has also been linked with a move for Palmer & Harvey, with Asda eyeing B&M Retail, and Morrisons tipped to buy The Range.

Today's move by Morrisons highlights not just the futility of some of this speculation, but also points to Morrisons' aversion to costly acquisitions since being burned by some of the expensive deals struck during the previous regime - such as Kiddicare and tranches of stores from Blockbuster and Jessops, not to mention the high cost of its initial Ocado deals.

"A lot of acquisitions do not prove to be accretive," suggests a source close to the deal. "Partnership deals that work for both parties can often be very underrated. I'd certainly rather be supplying McColl's than buying Nisa."

These days Morrisons is all about the development of low capital outlay partnership deals with the likes of Amazon and Rontec, and this deal gives it the opportunity to leverage its vertically integrated food production business and give it a credible and significant presence in the growing convenience sector.

Morrisons CEO David Potts confirms: "This new partnership is a further example of Morrisons leveraging existing assets to access the UK's growing convenience food market in a capital-light way. Wholesale supply will help make us a broader, stronger business."
What does it means for McColl's?
McColl's continues to look like the real deal under current CEO Jonathan Miller. He has been determined not to stand still and become swept along or capsized by the tides sweeping the convenience channels, but to position McColl's on a brave course that can harness these movements.

"This is a defining moment for McColl's and builds on the transformational deal we announced last year to acquire 298 high quality convenience stores," he argues.

For McColl's, the advantages of this deal are clear. Working with one supplier rather than two will take out complexity from McColl's operation on a number of levels and deliver key commercial efficiencies.

The big instant win will be in the quality of the fresh and chilled offer Morrisons will be able to provide. When Morrisons sold its orginal c-store business to My Local in 2015, sales fell almost immediately - a problem My Local CEO Mike Greene put down to not being able to source the same quality of fresh produce.

"In Morrisons we gain access to their best-in-class sourcing and manufacturing capabilities. This will enable us to provide our customers with the highest quality fresh food through the relaunch of the much loved and trusted Safeway brand," says Miller.

It will be interesting to see what customers make of the Safeway brand, given it disappeared as a retail brand over a decade ago. But McColl's is sure to benefit from the publicity generated by its return, and Miller confirms it has exciting marketing plans to fully capitalise on it. In terms of quality, it will be comparable with Morrisons' own mid-tier own-label offer, while McColl's said it would be competitively priced.
Will this kill off the Sainsbury's-Nisa deal?
McColl's has been widely hailed in the press as kingmakers in the Sainsbury's bid to buy Nisa. As Nisa's largest member it has been viewed as the jewel in Nisa's crown. The only problem, of course, is that McColl's, like all Nisa members large and small, are their own independent businesses and can, as it did today, walk away at any time.

Today's offer will in many people's minds surely spell the end of Sainsbury's £130m interest in acquiring Nisa, but it may not be as clear cut as that. Nisa is believed to have received a number of expressions of interest including one from The Co-op, and The Grocer understands that the only one not to specifically mention the retention of the McColl's contract as critical was the one from Sainsbury's.

We therefore may not have yet heard the last of this deal - but industry sources have speculated that its interest may have cooled since the beginning of the due diligence process, and today's announcement has to colour Sainsbury's view one way or another.

As for what is next for Nisa should a bid not materialise or get approved by its members if it does, today's news, which appears to have caught it on the hop, leaves it with another great big hole to fill, just as it had looking to plug the gap left by Costcutter jumping ship in 2013.

This is clearly a blow and it is hard to see another easy win out there to cancel out the loss, other than of course a return to the status quo with Costcutter.
"We are disappointed that the tender process has been halted nine weeks early - before there had been a chance for follow up conversations and proposals - especially when sales at Nisa-supplied McColl's stores were 8.4% ahead of budget," explains Nisa CEO Nick Read.
"Nevertheless, Nisa has contracts in place with McColl's that continue until June 2018 and March 2020, and we remain well placed to deliver our award-winning product to the specialised convenience sector. Nisa's third party distribution model is highly flexible, enabling the company to quickly adapt to changes in demand. Moreover, current trading at Nisa is strong, and while we value all our members, the McColl's business was a low margin contract. Accordingly, with strong trading, our recently announced new bank financing, and several new business wins, we remain well positioned to provide a sustainable business model for the benefit of all our members."
How much damage will this do to P&H?
Palmer & Harvey appears the most vulnerable as a result of McColl's taking its business to Morrisons. It has been an incredibly turbulent time for the delivered wholesaler over the last few months and today's news will no doubt feel like the rubbing of salt into the wounds.

The Grocer understands that had things worked out differently, P&H might have been the vehicle for Morrisons' surge into the wholesale sector with Safeway, and that it is involved in Morrisons' push into the forecourt sector with Rontec.

Interestingly, P&H has actually come out swinging today, arguing that its McColl's deal is not that much of a loss at all.

"The McColl's contract has been loss-making for some time for P&H and, as such, we entered the tendering process for the new contract with a clear objective that we would only tender on commercial terms that would be acceptable to us and our stakeholders, and that would provide a sufficient return to the group," claims a P&H spokeswoman.

"With this in mind, while it is disappointing that we have lost this tender, we are focused on developing relationships that will provide the group with sufficient returns, and we are encouraged by the discussions we are having with a number of existing and potential customers. We have another year under our current contract with McColl's, giving us time to cement our discussions with other customers while working closely with McColl's to ensure a smooth transition for them."