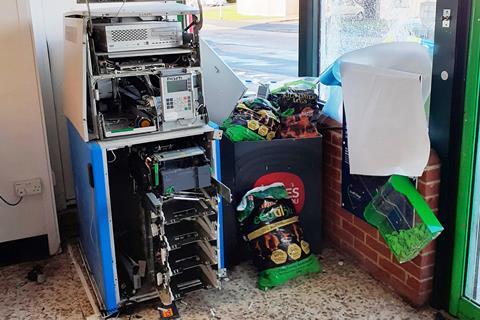 Two leading convenience retail chains have fallen victim to criminals attempting to steal cash from ATMs using gas canisters to blow them away from the walls of their stores.

Two stores owned by James Convenience Retail in Yorkshire have been attacked in the past few weeks, causing thousands of pounds worth of damage to the fixtures and fittings and stock within the store. Meanwhile, East of England Co-op said its store in Clacton-on-Sea in Essex had also been attacked in the same way in January.

The thieves pour gas through the slot where the cash is dispensed, which then fills the void between the computer element of the ATM and the secure cash safe below. They then ignite the gas, which creates a build-up of pressure to blow the safe away from the wall.

Lee Hammond, head of Co-op secure response at East of England, said the tactic had been around for a few years most commonly in the Midlands and south coast, but that such an attack was rare in East Anglia. Likewise, JCR owner Jonathan James told The Grocer it was not something he had experienced before.

Hammond said there had been significant damage caused to a fridge as the blast sent the safe flying across the store, along with further damage. It lost half a day's trade while the store was cleaned up.

James said the most recent attack at the end of February caused £1,000 of damage to stock and significant damage to the store. However, his team managed to get it trading again within half a day.

The latest attacks come against a background of rising retail crime. This week the BRC revealed that the cost of crime and crime prevention to the industry has spiralled to more than £2bn, while incidents of violence and abuse against retail workers rose 9% to 424 incidents per day.