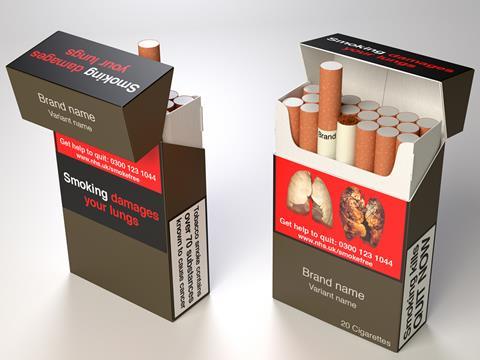 Two-thirds of independent retailers were left with stock they could no longer legally sell after new laws banning branding and smaller packs of tobacco came fully into force two weeks ago, according to new research commissioned for The Grocer.

In several cases, the value of this stock came to more than £2,000, a survey by Him of 200 retailers - 100 symbol operators and 100 indies - found. One retailer reported being left with products worth £3,682.

Under UK law it became illegal to sell tobacco in anything other than olive green standardised packaging after 20 May. Cigarette packets containing fewer than 20 sticks and packs of rolling tobacco weighing less than 30g were banned on the same day as part of the latest EU Tobacco Products Directive (EUTPD2). The vast majority of retailers (95%) said they had stopped selling non-compliant packs, though 5% admitted they were continuing to sell them.

Imperial Tobacco told The Grocer its sales representatives were trying "to ensure all remaining unsold branded packs in the independent trade are swapped out on a value basis for new standardised packs". It also said it was doing this despite being under no legal obligation to do so.

Japan Tobacco International said it would collect unsold JTI-branded packs from retailers but did not say if it would replace these with compliant packs.

While it is still early days for assessing just how much impact the new rules will have on smokers, there were worrying findings for independents in the research. Just over two-fifths of shopkeepers (41%) said their tobacco sales had fallen since the new laws had kicked in; 13% felt they had increased while 46% said they had stayed the same.

As for reactions to the new laws, shopkeepers reported 21% of their customers were happy to move to larger pack sizes when told so at the point of purchase; 67% were unhappy about switching but did so anyway; while 13% left the shop without a purchase.

There was also evidence of retailers being impacted by availability issues of some tobacco brands over the transition, with 13% saying they were affected.

"Owing to the volatile nature of the market during the transition, we have observed spikes in demand for certain brands in recent weeks … but we expect any issues concerning availability to settle down imminently," said an Imperial spokesman.