The pandemic convenience boom enjoyed by its rivals seems to have missed McColl's out. Can its Morrisons Daily conversions save the day?
Just what is going on with McColl's? In the past two years the vast majority of convenience retailers have enjoyed a massive sales boost driven by the pandemic.
While these sales have not always gone straight to the bottom line – covid also brought significant cost hikes to retailers – the general consensus is that the UK convenience market is a stable, profitable and attractive market to be in, especially when compared with the turmoil suffered in hospitality.
So how can it be that a managed chain of 1,200 convenience stores supplied by one of the UK's big four grocers is scrambling around looking to secure urgent backing from investors to stay afloat?
It seems implausible but that is where we currently find McColl's Retail Group. The listed retailer had been due to report its full-year results this month, but this has now been pushed back to May after it emerged, via Sky News, that the retailer had tasked advisors to either find a buyer or source fresh funding to prevent it falling into administration.
McColl's issued a response when the stock market opened the following Monday (28 February) in which it confirmed that talks were ongoing with its lending banks with the aim of reaching a longer-term agreement in relation to the balance of its c£170m debt facility.
The statement added it had "received the necessary agreement to roll forward its financial covenant test periodically, and continues to receive credit support from its key commercial partner, Morrisons, to enable these discussions". It also "continues to believe that a financing solution will be found that involves its existing partners and stakeholders".
But how did it get here and can it ride out the current storm?
Flotation
McColl's floated in 2014, making a fortune for its founder James Lancaster and several senior executives including current CEO Jonathan Miller. Some of its current issues pre-date the float and are linked to its retail roots in newsagents rather than convenience. It has been on a long journey of trying to rebalance its estate from the majority of stores being smaller CTNs (confectionery, tobacco, news) to higher turnover and theoretically more profitable convenience stores.
However, there still remains a long tail of CTNs and small c-stores, which continues to drag down its overall sales performance. In its statement on 28 February, McColl's reported two-year like-for-like sales growth of 5.9% in the 11 weeks to 13 February 2022, which it said was in line with the neighbourhood convenience market. This was despite the approximately 170 stores it has converted to the Morrisons Daily format "delivering like-for-like sales growth that is at least 20% better than non-converted, comparable stores, and ahead of the total convenience market".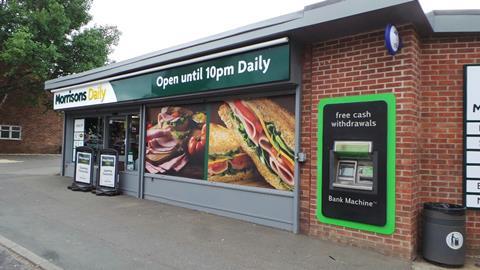 Compounding this legacy issue was a much more dramatic than planned switch to its current Morrisons supply model from the now defunct Palmer & Harvey. Ironically, McColl's decision to switch supply in August 2017 – along with Costcutter signing up with Co-op – were two of the key factors in hastening P&H's demise later that year.
McColl's planned a phased handover of supply to Morrisons over the course of 2018, but with P&H folding in November it had to bring these plans forward more hastily.
A source familiar with the situation at the time says moving to Morrisons distribution early "put McColl's on the back foot".
In a sense this sums up McColl's issues. It has never really got on the front foot and that is partly self-inflicted and partly bad luck.
McColl's timeline
1973: The group was founded by James Lancaster as a cigarette vending machine business
1994: First move into retail with the acquisition of Forbouys newsagents
1998: McColl's purchases the Martin's chain of newsagents and convenience stores, becoming the largest neighbourhood retailer in the UK.
2000: Sells vending business to focus entirely on retail
2005: Convenience-focused strategy launched with McColl's for c-stores and Martin's for CTNs
2014: Successful stock exchange floats makes millions for founders and key executives
2017: Announces departure from P&H and move to Morrisons supply
2019: Launches first Morrisons Daily formats at 10 trial stores
2021: Raises £30m to accelerate plans to reach 450 Morrisons Daily conversions
Certainly the early switchover led to availability issues that held back sales growth and slowed the conversion of McColl's stores to the new Morrisons Daily format as it was constantly firefighting.
And was it bad management or a lack of continuity that saw four CFOs appointed in five years?
The global pandemic also came just at the wrong time, with higher in-store costs combining with lower sales due to a planned store closure programme and a shift to higher volume but lower margin products.
The supply chain crisis last year seems also to have hit McColl's just when it needed to be wowing its lenders with a more stellar performance to justify the cash it needed for the Morrisons Daily rollout.
These lenders are understood to include Barclays, HSBC, NatWest Group and Santander, though Sky reported that some of these banks had been trading the debt in recent weeks and suggested the hedge fund Silver Point had bought into it.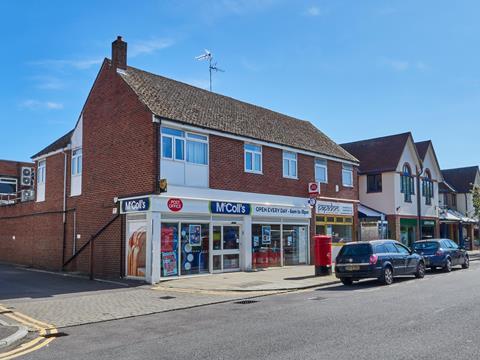 Store conversions
So where does the business go from here? At a retail level, McColl's is cracking on with its existing strategy to convert as many stores as possible to the Morrisons Daily format. It says it remains on track to hit its target of 450 stores by November and Miller, who is understood to have pumped £3m of his personal fortune into the last round of fundraising last summer, is convinced many more stores can be given this makeover.
The Morrisons Daily format is a major upgrade on the previous format, with a much more food-focused offer that is the hallmark of most successful modern-day convenience stores. These stores could also soon be enhanced further with a tailored Morrisons hot food and food to go offer. A five-year food to go contract with Country Choice expired in November. Supply will continue on a rolling basis at existing stores for now but all Morrisons Daily launches from 2022 onwards will feature the new offer, with the rest retrofitted in due course.
As for the financial front, the future is less certain. With the share price tumbling to 2p, some analysts fear the worst and suggest "situations rarely come back from this position". Much will depend on Morrisons, which – after the 16,000 McColl's employees – stands to be hardest hit should its partner collapse.
"The early move to Morrisons seems to have put McColl's on the back foot"
Should McColl's go under it faces a potential loss of around £50m as a creditor. And as well as losing around 60% of sales in the Morrisons wholesale division, it opens up the possibility of hundreds of stores being supplied by a rival, maybe even Asda. Asda owners the Issa brothers and TDR Capital are understood to have approached McColl's regarding an acquisition of the whole group. They later withdrew, spooked by the prospect of having to be supplied by Morrisons until 2027.
If the business were to collapse, however, it would make it much easier for the Issas to swoop for the stores they want. Morrisons would surely be interested in buying the Morrisons Daily stores, but its interest could be further complicated by the ongoing CMA investigation into the CD&R takeover of Morrisons and the potential competition issues raised by its ownership of forecourt operator Motor Fuel Group. So it may instead have to settle for assisting a third party to buy the business and ensure continuity of supply.
There is much to play out but it won't be long until the picture becomes clearer. The full-year results were pushed back to May "to allow additional time for banking discussions to conclude". It won't be just McColl's and its staff hoping these talks go well.