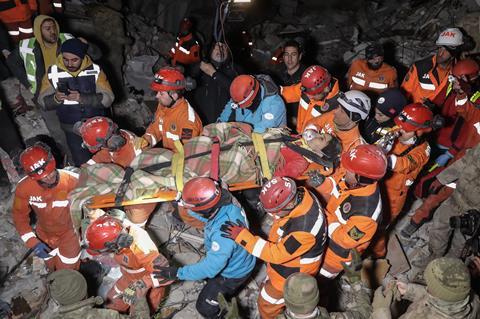 The wholesale & convenience sector is backing emergency relief efforts to support earthquake victims in Turkey and Syria, with donations of up to £100,000.
At least 35,000 people have now been reported killed from the series of devastating earthquakes that struck the region, with numbers expected to rise. Thousands have been injured and millions left without shelter.
Forecourt giant EG Group and wholesaler Booker are both donating £100,000 to the British Red Cross, as part of the Disasters Emergency Committee's Turkey-Syria Earthquake Appeal.
Zuber Issa, co-CEO of EG Group, said the donation would help support local agencies in their rescue efforts.
"EG Group is pleased to support the British Red Cross following the devastation caused by the recent earthquakes in Turkey and Syria," he said.
"EG's Foundation and Corporate Social Responsibility colleagues are also organising additional fundraising events and activities in the Blackburn head office and across our extensive UK site network to supplement the company donation.
"Our hearts go out to all those affected by the earthquakes in Turkey and Syria, and we hope they receive all the support they need from the international community in their time of need."
Booker is also making donations of €25,000 to Red Cross Ireland, and £50,000 each to the national fundraising campaigns in the Czech Republic, Hungary and Slovakia.
Fellow wholesaler Bestway has launched an appeal across its depots nationwide to ask for donations that will support victims in accessing food, water and other essential supplies to help them "rebuild what they have lost".
"Our appeal goes out to all our partners, friends, customers, and colleagues," said Bestway Wholesale MD Dawood Pervez.
"As such, we have arranged for all our depots to hold a donation box to collect money to help provide aid. We hope that our customers will join us as we know that every little helps."
Nisa is encouraging colleagues and customers to donate, while clothing banks from its charity – Making a Difference Locally – will also be directing warm clothes to Turkey and Syria. The symbol group's owner, the Co-op Group, has made a £100,000 donation.
Co-op societies have also rallied to support the victims by promoting the DEC's fundraising appeal, including the Midcounties Co-op, Scotmid Co-op and Radstock Co-operative. Customers and members can make online donations or donate by texting COOP to 70787. Southern Co-op has donated £10,000 to the cause.