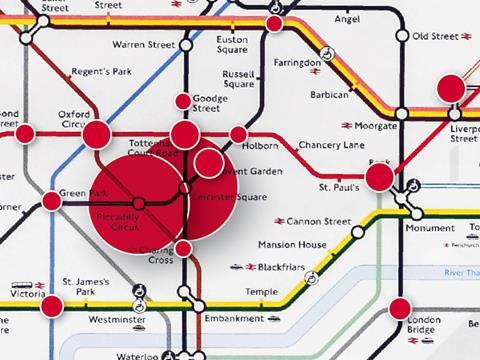 London can finally call itself a 24-hour city. The Night Tube began running in the summer and the rollout has gathered pace over the past few months, culminating in the opening of the Piccadilly Line service in December. With five lines now up and running on Friday and Saturday nights, economists believe this year will see the Night Tube begin to make a real impact on London's multi-billion pound night-time economy. Expectations are high: EY estimates the Night Tube could add £77m to London's economy each year by 2029, by which time all lines should be operational. And food is tipped to receive a sizeable share of this boost, with 18% of new jobs created by the Night Tube expected to be in restaurants, takeaway and mobile food. So as late-night revellers flood the city in search of fuel, could grocers also benefit?

At first glance, the answer is yes. There are 750 grocery and convenience stores within 250m of a station on the Night Tube, according to analysis compiled for The Grocer by demographic data specialists CACI. But their potential varies widely by location. The prime spots for retailers are almost all in zone one and activity drops off significantly the further out you go. Unsurprisingly, Leicester Square and Piccadilly are prime locations, with more than 10 times the average night-time economy potential of zones one and two. Other hubs such as Tottenham Court Road and Liverpool Street have around three times the average potential. Outside central London, only fashionable areas such as Canary Wharf, Camden Town and Brixton have a decent chance of cashing in on the extended hours.

It could present an opportunity for the large grocery players in London. Bruno Monteyne, analyst at Bernstein, says the Night Tube "seems great" for those in high-potential areas. Sainsbury's has the highest number of stores near a Night Tube station - 57 - and its Local formats are in prime spots such as outside Waterloo and Brixton stations. Tesco is next with 52 eligible branches including a Metro just a short walk from Leicester Square. M&S has 28 branches in some promising-looking locations such as London Bridge and Waterloo stations, and Waitrose has 18 high-potential branches, most notably in Highbury & Islington and Clapham Common.
Multiples above Zone 1 & 2 average night-time economy potential Analysis by CACI
Leicester Square 11.5
Piccadilly Circus 10.9
Tottenham Court Road 3.3
Liverpool Street 3.3
Bank & Monument 3.3
Oxford Circus 3.3
Covent Garden 3.3
London Bridge 2.6
Victoria 2.6
Bond Street 2.3
Green Park 2.3
Holborn 2.1
Charing Cross 2
King's Cross 2
Goodge Street 2
11pm closure

Yet most of these stores continue to close around the 11pm mark, even earlier than the former London Underground cut-off point of 12.30am. Only Tesco is trialling 24-hour opening in seven of its London stores and these aren't necessarily in the obvious locations. The branch near Leicester Square continues to get an early night at 10pm, yet its branch in Ealing (the highest potential area in zone three, which is still way behind any central London location) will be open all hours. And its 24-hour trial even ventures out as far as zone four with its Ilford store.

CACI believes the Central London areas will undoubtedly gain footfall, but is particularly interested in the performance of Tesco branches in outer London. "The areas with a bit of nightlife of their own and the right kinds of residents on the doorstep have to be a good bet," says Louise Etherden, associate partner at CACI. "The biggest question is what will they buy at that time of the day and will the basket sizes and margins justify the extra staffing costs?"
These stores may well stand a better chance of getting a decent basket size, says Julie Carlyle, retail leader at EY. Supermarkets in zone one will most likely get a high number of people who are simply "going in to buy a packet of crisps". "You will have the odd person coming off their night shift to get their shopping but will that be enough to balance the costs of staying open?" Carlyle points out. As she says, the Night Tube is only expecting to increase the capital's night worker population by around 115,000 by 2029, which isn't much for a city that is home to over 8.6 million. "You've got to think about who the customer will be because they're more likely to be leisure customers who will have a very small basket size," Carlyle stresses. Customers may tend to do larger shops when they come off the Tube near home, so supermarkets out in busy suburbs such as Ealing could have lower footfall but a higher number of items per transaction.
" A major retailer needs quite a footfall argument to open 24 hours"
Overall, though, Carlyle doubts the Night Tube will make big bucks for the supermarkets. If they are to make extended opening hours work, they will have to work cleverly. "Branches that already have staff fulfilling online orders during the night anyway, for example, could use that to provide some sort of service to customers," she suggests.

It stands to reason, then, that the supermarkets are yet to commit to swathes of extended hours. At a time when the major players are facing squeezed margins and a cutback on 24-hour openings, this is unlikely to happen, says Clive Black, head of research at Shore Capital. "Retailers are becoming much more clinical in their examination of their operating costs and I think there needs to be quite a footfall argument for a major retailer to open for 24 hours. The labour costs from doing so are pretty high, so I imagine some of them will want to do analysis of footfall before they commit to night shifts," he says. If any more retailers do open in the near future, he imagines it is more likely to be independent stores and fascias such as Spar, Costcutter and Premier in certain pockets of high activity.

So although Night Tube enthusiasts may like to think of London as a city that never sleeps, for now it seems that grocery will still be getting an early night.