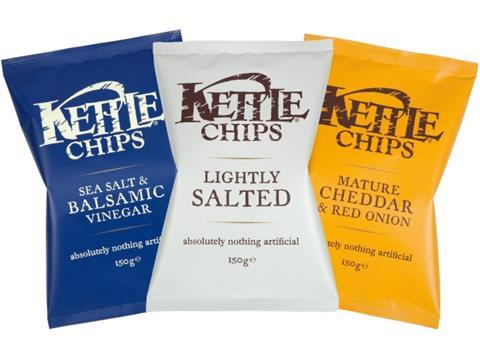 Diamond Foods looks set to hoist the 'for sale' sign over Kettle Foods.

Banking and industry sources told The Grocer this week that Diamond was considering a sale of the whole brand or its European arm, which is based in Norwich.

A sale, which could attract a multiple of more than 10 times EBITDA, would significantly improve Diamond's financial position, which was badly weakened by fallout from an accounting scandal in 2012.

Diamond hid financial payments to walnut growers, allegedly in order to inflate its share price and ensure the smooth passage of a proposed £2.3bn deal to buy Pringles.

Legal cases against the company have prevented it from pursuing a sale, but now settlements have been agreed, it is rumoured to be preparing the ground.

Sources said a sale would attract private equity interest as well as multinationals such as Intersnack, PepsiCo, Kraft and Kellogg's, but that trade buyers would be less interested in a partial sale.

Following the collapse of Diamond's acquisition of Pringles, P&G sold the brand to Kellogg's for £2.7bn in 2012. Kellogg's is expected to be a frontrunner if Kettle comes up for sale.

One industry source said UK retailers were concerned about the prospect of Kellogg's buying the brand because of what it could mean for the future of their own-label crisp ranges.

"Kellogg's doesn't do own-label, while Kettle has a substantial own-label business," he said. Kettle makes crisps for Waitrose, M&S, Sainsbury's and Boots.

Diamond, which bought Kettle from Lion Capital in 2010, recently agreed a major refinancing deal and its shares have recovered somewhat from the lows of 2012, but it remains in a fragile position financially. The company declined to comment.